Fashion Nightmares – 23 Of The Biggest Scandals & Secrets From On & Off the Catwalk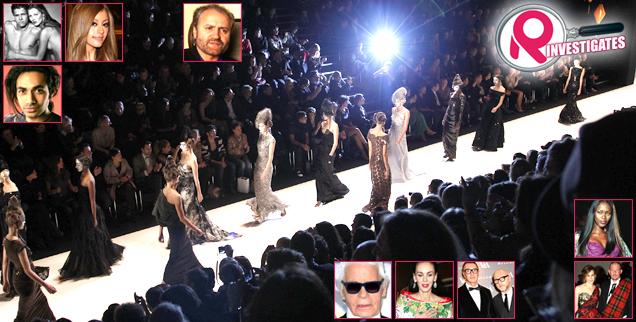 From temper tantrums and racist rants, to fat shaming and suicide the world of fashion is not as glamorous as it seems. Here is RadarOnline.com's look at the secrets and scandals that rocked the catwalk!
Article continues below advertisement
The Death Of L'Wren Scott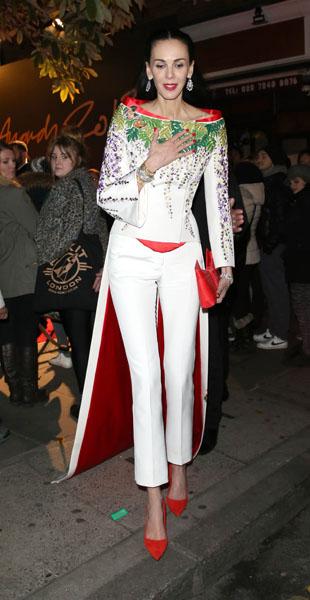 The fashion world was stunned in March 2014 when 49-year-old L'Wren Scott was found dead in her posh New York apartment. The former model and designer had hung herself, leaving her Rolling Stone boyfriend Mick Jagger grief-stricken. After her death it was revealed that her fashion line was failing and her company was in debt to the tune of over $6 million.
Alexander McQueen's Suicide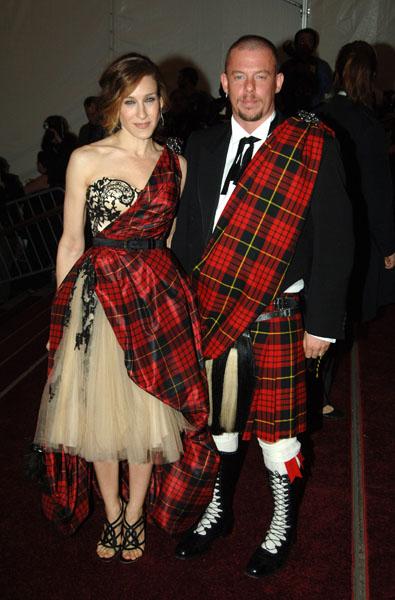 His list of famous fans and friends included Kate Moss, Naomi Campbell and Sarah Jessica Parker. But brilliant British designer Alexander McQueen couldn't face life without his mother. Within days of his beloved mom's 2010 death, the 40-year-old Londoner was found hanging in his home.
Article continues below advertisement
John Galliano's Anti-Semitic Rant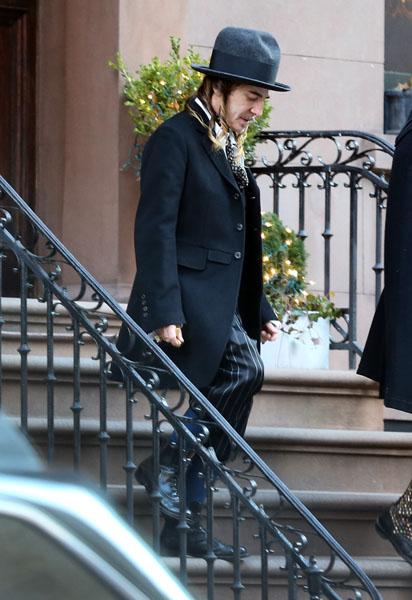 When it comes to talent none was celebrated more in fashion than that of John Galliano. But the dapper Brit fell from an almighty height – being fired from the House of Christian Dior in 2011 after being caught on tape drunkenly flinging anti-Semitic slurs to a couple in a Paris café. The incident happened in 2010 but emerged the following year after the footage was unearthed by UK tabloid, The Sun.
Article continues below advertisement
The Murder of Gianni Versace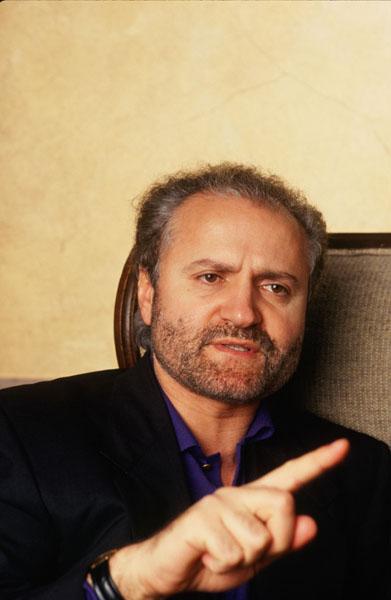 It was the year of sudden celebrity deaths with people like Princess Diana and the Notorious BIG dying. But no death was more shocking than the murder of Italian fashion designer Gianni Versace. FBI fugitive Andrew Cunanan gunned the 50-year-old down on the steps of his Miami Beach home in July 1997.
Article continues below advertisement
Brooke Shields & Her Calvins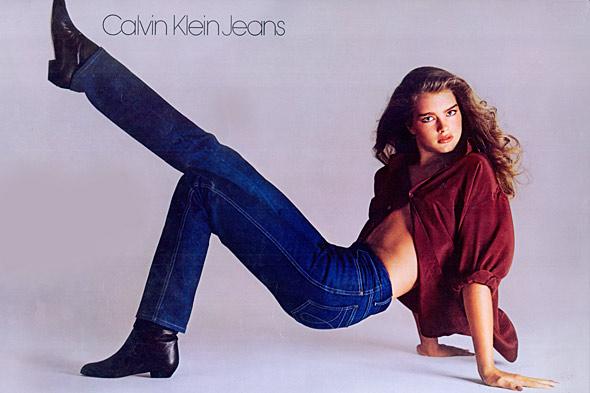 "You know what comes between me and my Calvins? Nothing." That's what a doe-eyed, 15-year-old Brooke Shields told a horrified America in the 1980 ad campaign for Calvin Klein jeans.
Article continues below advertisement
Kate Moss Straddles Mark Wahlberg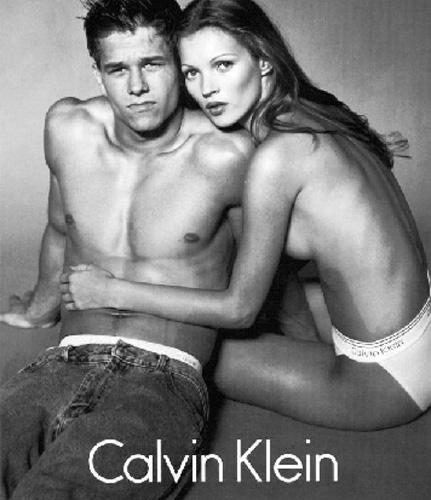 She was the envy of teens everywhere when a topless Kate Moss straddled Mark Wahlberg in a 1992 ad for Calvin Klein briefs. But in 2012 the British model confessed to Vanity Fair that she "didn't like it" and had a "nervous breakdown" after posing for the iconic pictures at "17 or 18." She told the magazine: "I couldn't get out of bed for two weeks."
Article continues below advertisement
Heroin Chic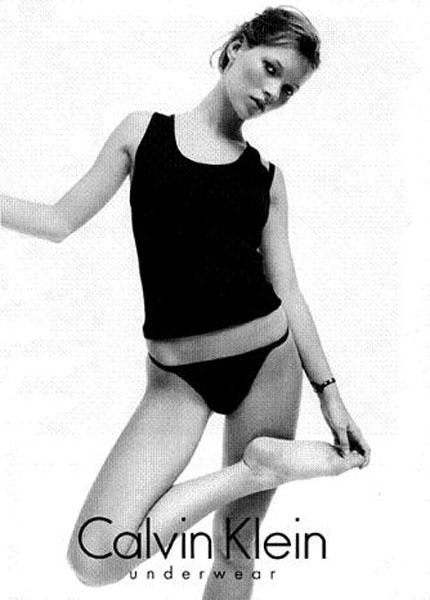 In the early heady days of her fashion career skinny Kate Moss was the face of the "waif look." But critics dubbed the look – pale skin, dark-ringed eyes, sunken cheeks and skinny limbs – "heroin chic." Even President Bill Clinton slammed the look, declaring: "The glorification of heroin is not creative, it is destructive."
Article continues below advertisement
Naomi Campbell – Tantrums & Tiaras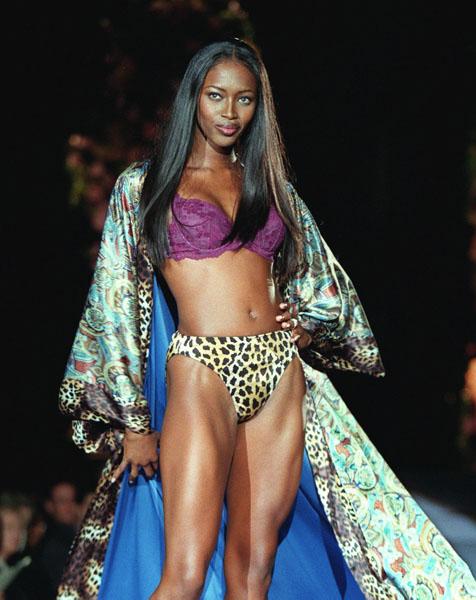 One of the original icons of fashion for whom the term "supermodels" was created, Naomi Campbell is in a class by herself when it comes to scandals. Her rumored feud with model Tyra Banks, her legendary chronic lateness and even her admitted cocaine addiction are nothing in comparison to her infamous temper. She has been arrested and taken anger management classes for a range of offences that have included throwing a cell phone at a former assistant, assaulting two police officers at London's Heathrow Airport and being banned from British Airways after clashing with staff over a missing bag.
Article continues below advertisement
Kate Moss Cocaine Scandal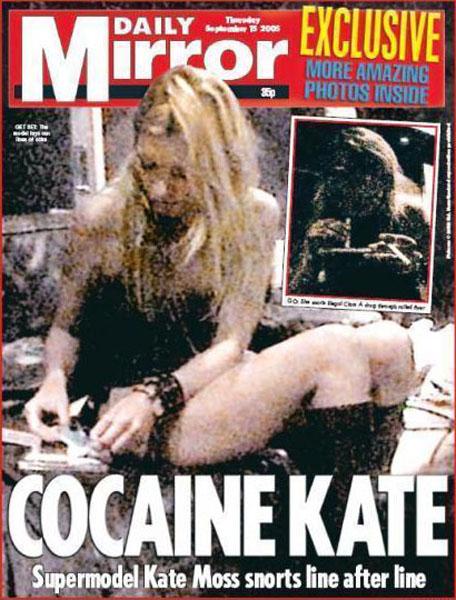 The poster child for "heroin chic" was hit in the pocket after she was photographed allegedly snorting cocaine, a picture that was splashed across the front page of British newspaper, the Daily Mirror in 2005. The then 31-year-old model lost lucrative contracts with H&M and Burberry. But her career quickly rebounded and she is still considered a fashion icon.
Article continues below advertisement
Vivienne Westwood Forgets Her Knickers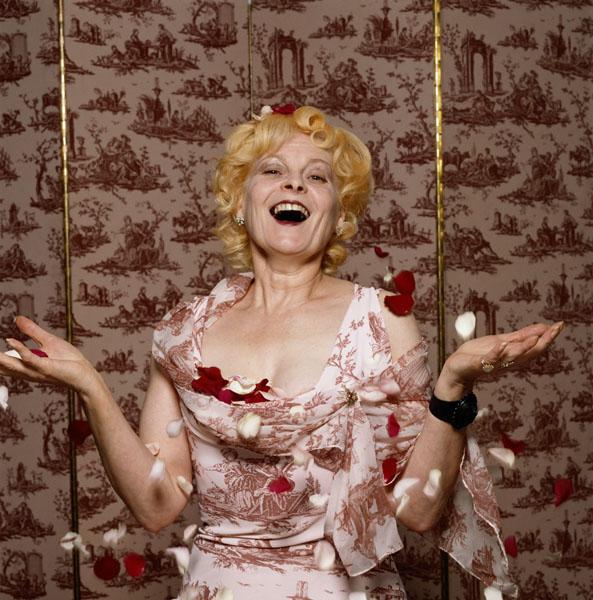 What do you wear if you're going to collect a royal honor from the Queen? If you're British designer Vivienne Westwood going to pick up your OBE (Order of the British Empire) what you don't wear are your panties. In 1992 the saucy fashionista accidentally revealed she had gone commando when she gave photographers a little twirl outside, sending her dress flying and exposing her lady bits to the world.
Article continues below advertisement
Dolce & Gabbana Jailed For Tax Evasion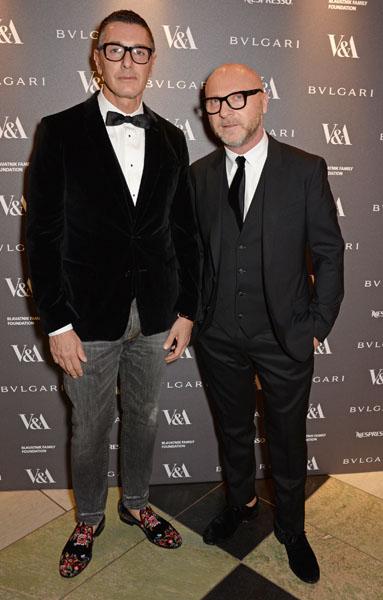 Prison stripes are anything but glamorous but that's what Domenico Dolce and Stefano Gabbana could be wearing if a sentence for tax evasion is upheld in Italian court. In June 2013 the designing duo and former lovers were sentenced to one year and eight months after being found guilty of failing to declare taxes on income of more than $1 billion. They are appealing the sentence and have denied any wrongdoing.
Article continues below advertisement
Crystal Renn Weight Controversy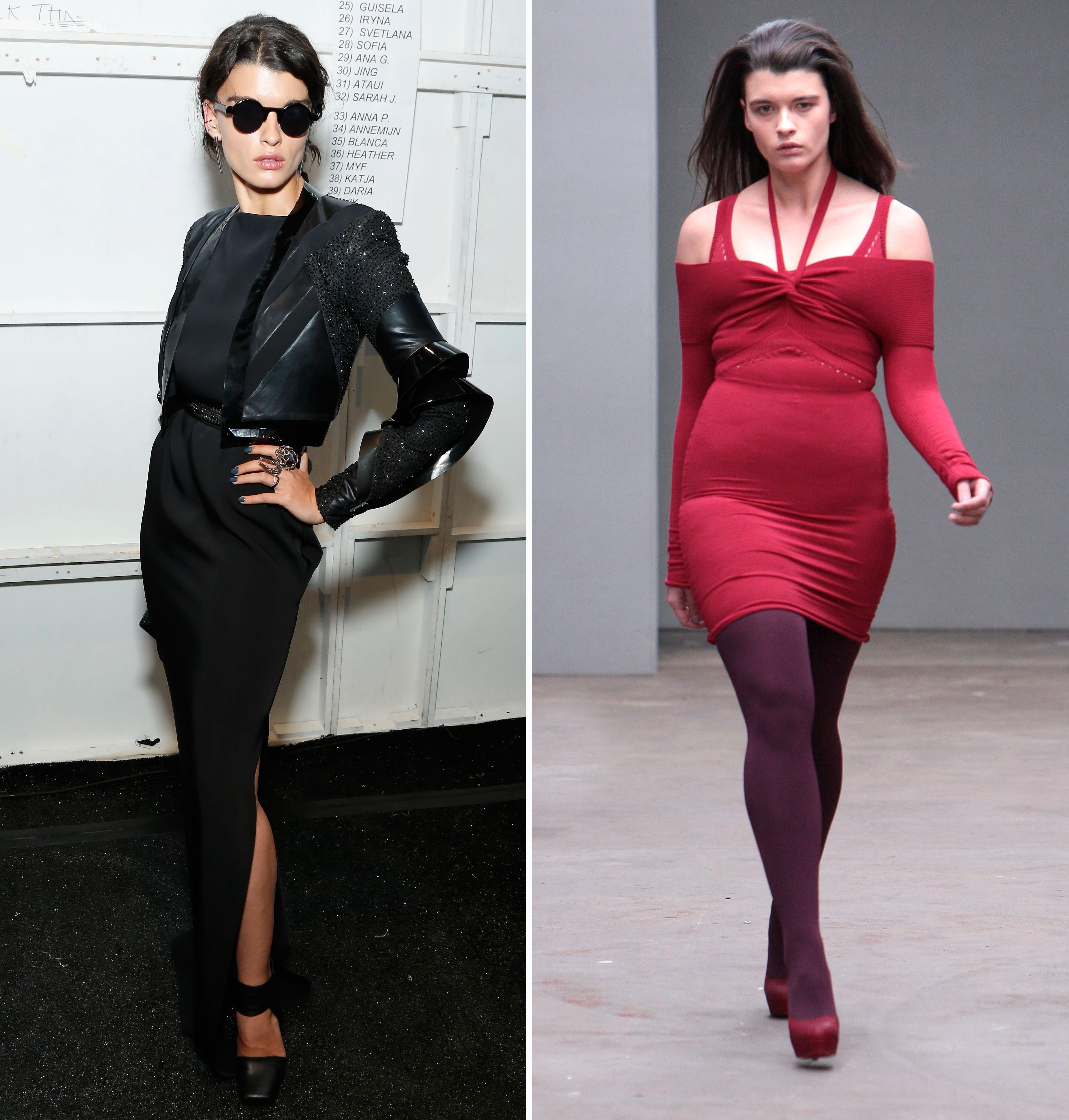 Her curves – and her defiant celebration of them following her battle with anorexia – are what brought her fame and applause. But when plus-size model Crystal Renn slimmed down to a shadow of her former self within years of the release of her memoir Hungry, fans blamed the industry for pressuring her to lose weight. But in 2011 she told Entertainment Tonight that was not the case saying: "I think…they wanted to find a conspiracy where there absolutely was none."
Article continues below advertisement
Anand Jon Alexander Rape Conviction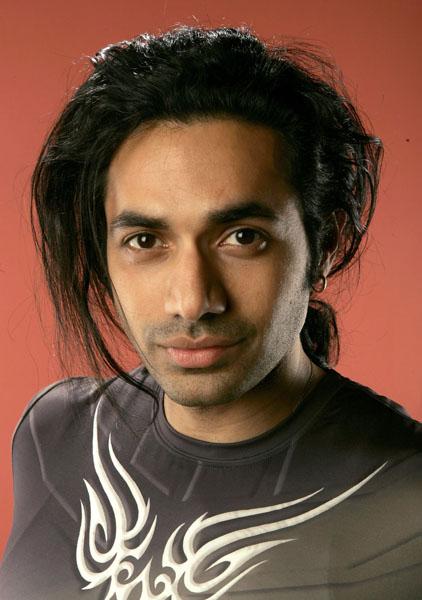 In August 2009 he was sentenced to prison for 59 years to life after being found guilty of rape, and committing a lewd act on a child in an LA court. But fashion designer Anand Jon Alexander has denied claims he was a sexual predator who preyed on wannabe models and underage girls. In a jailhouse interview with AP in 2013, Anand said: "I have 100 percent faith and confidence that I will be freed."
Article continues below advertisement
Jenna Lyons' Lesbian Affair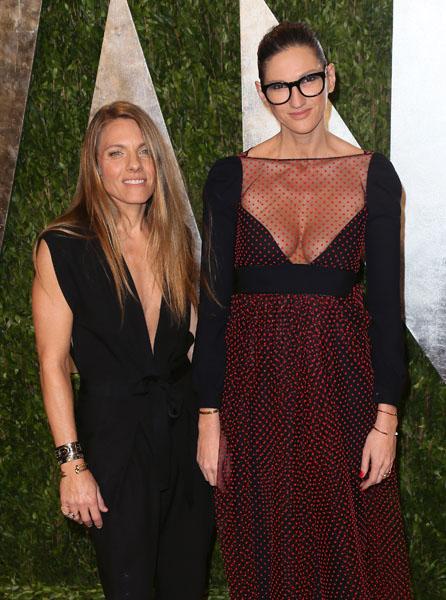 In this day and age it's not scandalous when someone falls in love with a person of the same sex. But when the married president of J. Crew divorces her husband and starts dating a woman, it raises more than a few eyebrows. In 2013 – two years after splitting from her husband and starting a relationship with girlfriend Courtney Crangi – Jenna Lyons told the New York Times: "It certainly is strange to wake up, at 44, and look at the person next to you and think: 'Oh! This wasn't what I expected'."
Article continues below advertisement
Jean Paul Gaultier's 'Insults' Amy Winehouse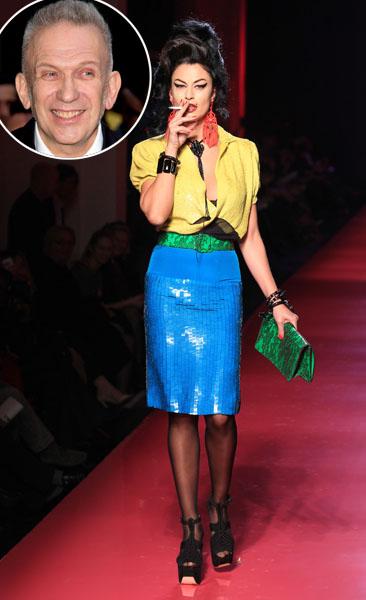 Jean Paul Gaultier saw it as his "homage" to a tragic chanteuse but in January 2012 the family of Amy Winehouse slammed the French designer's spring-summer collection. His show featured models strutting down the catwalk wearing the singer's trademark beehive and heavy eyeliner just six months after she died of alcohol poisoning. Amy's father Mitch Winehouse said he thought the collection was "in bad taste" and Gaultier told the UK's Grazia magazine that he "didn't mean to upset anyone."
Article continues below advertisement
Karl Lagerfeld Fat Shame's Adele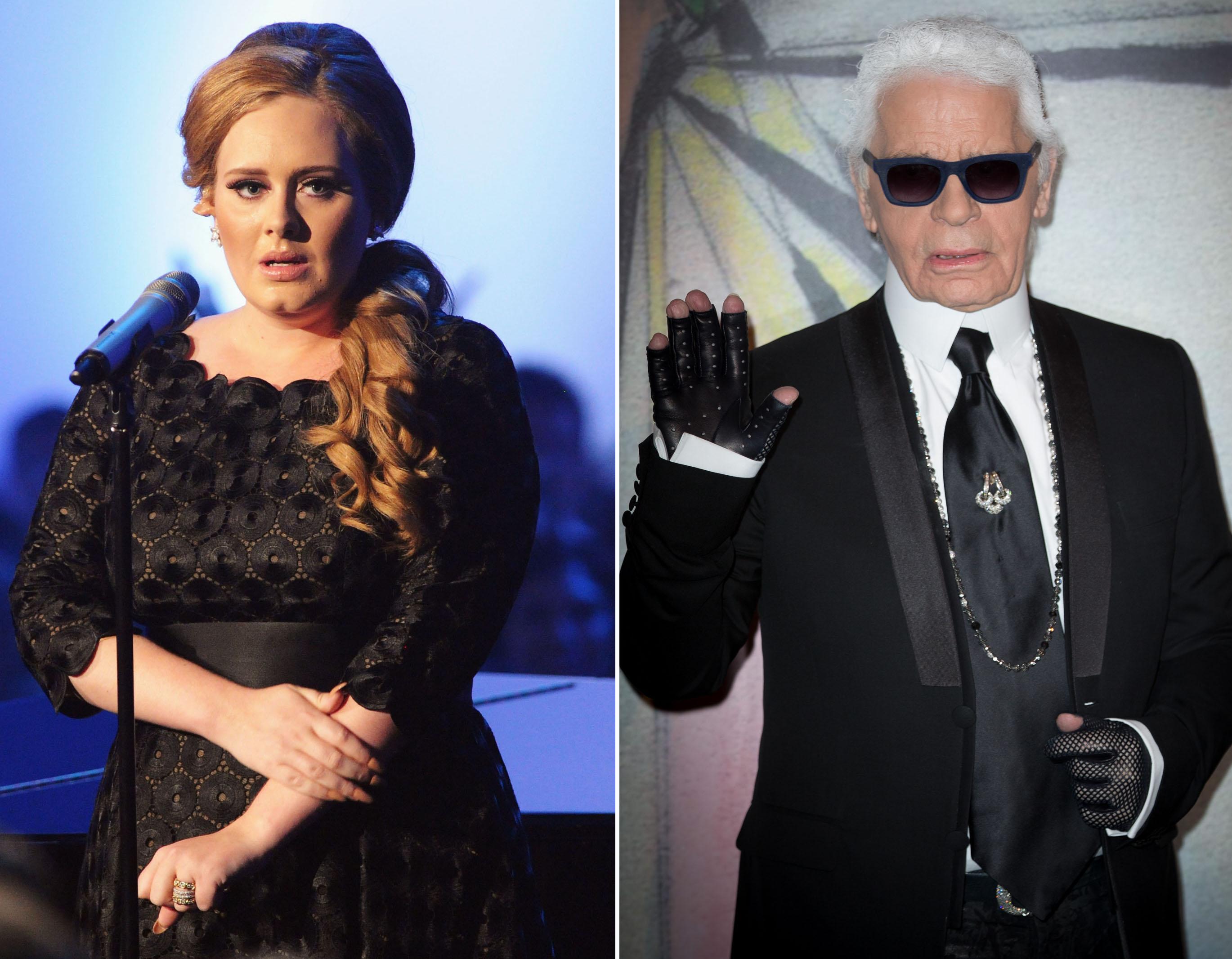 Whether he called her "a little too fat" or "roundish" (as he later claimed) Karl Lagerfeld's comments about Adele's figure stirred up a hornet's nest. The German designer found himself in hot water in 2013, a year after he made his original "fat" comments. Explaining away his faux pas he told CNN's Fashion: Backstage Pass: "But for such a beautiful girl, after that she lost eight kilo 17.6 pounds so I think the message was not that bad."
Article continues below advertisement
Kenneth Cole's Controversial Tweet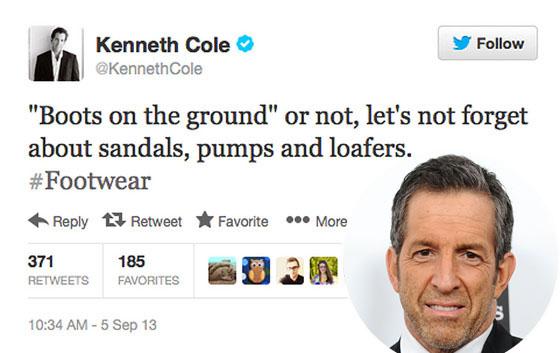 "'Boots on the ground' or not, let's not forget about sandals, pumps and loafers." That is what fashion designer tweeted in September 2013 as the US was on the brink of taking military action against Syria. His comment was swiftly criticized and he later released a statement saying: "For 30 years I have used my platform in provocative ways to encourage a healthy dialogue about important issues…"
Article continues below advertisement
Dov Charney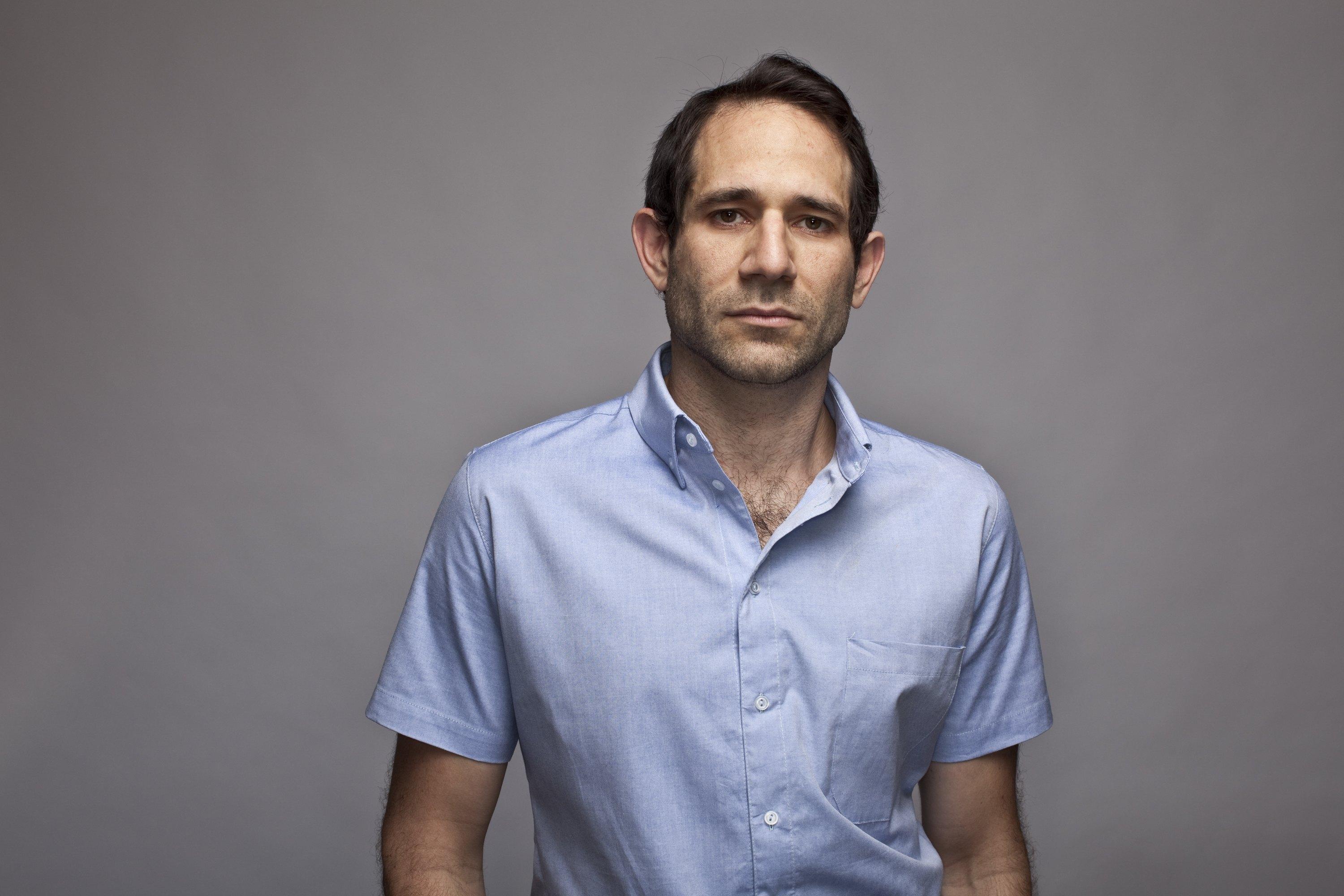 The founder and CEO of American Apparel is another fashion personality who is in a category of his own when it comes to scandalous behavior. Amid a slew of sexual harassment claims and charges of sexism one incident stands tall. In 2004 a reporter for Jane magazine claimed he masturbated in front of her throughout their interview.
Article continues below advertisement
Vogue Netherlands Blackface Tribute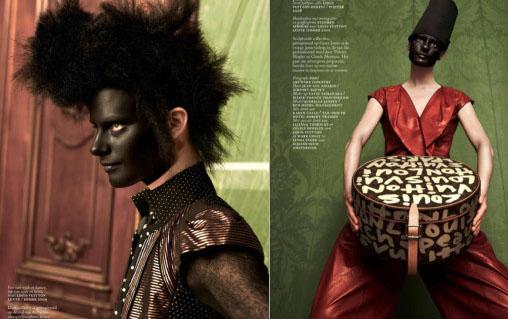 The Dutch version of the fashion bible waded into controversy in 2013 with its tribute to designer Marc Jacobs' work with Louis Vuitton. The spread entitled "Heritage Heroes" featured a white model channeling Grace Jones and Josephine Baker while wearing black face. Fashionista.com criticized the magazine recommending that they "don't paint a white person's face black, ever."
Article continues below advertisement
Kiefer Sutherland Headbutts Jack McCollough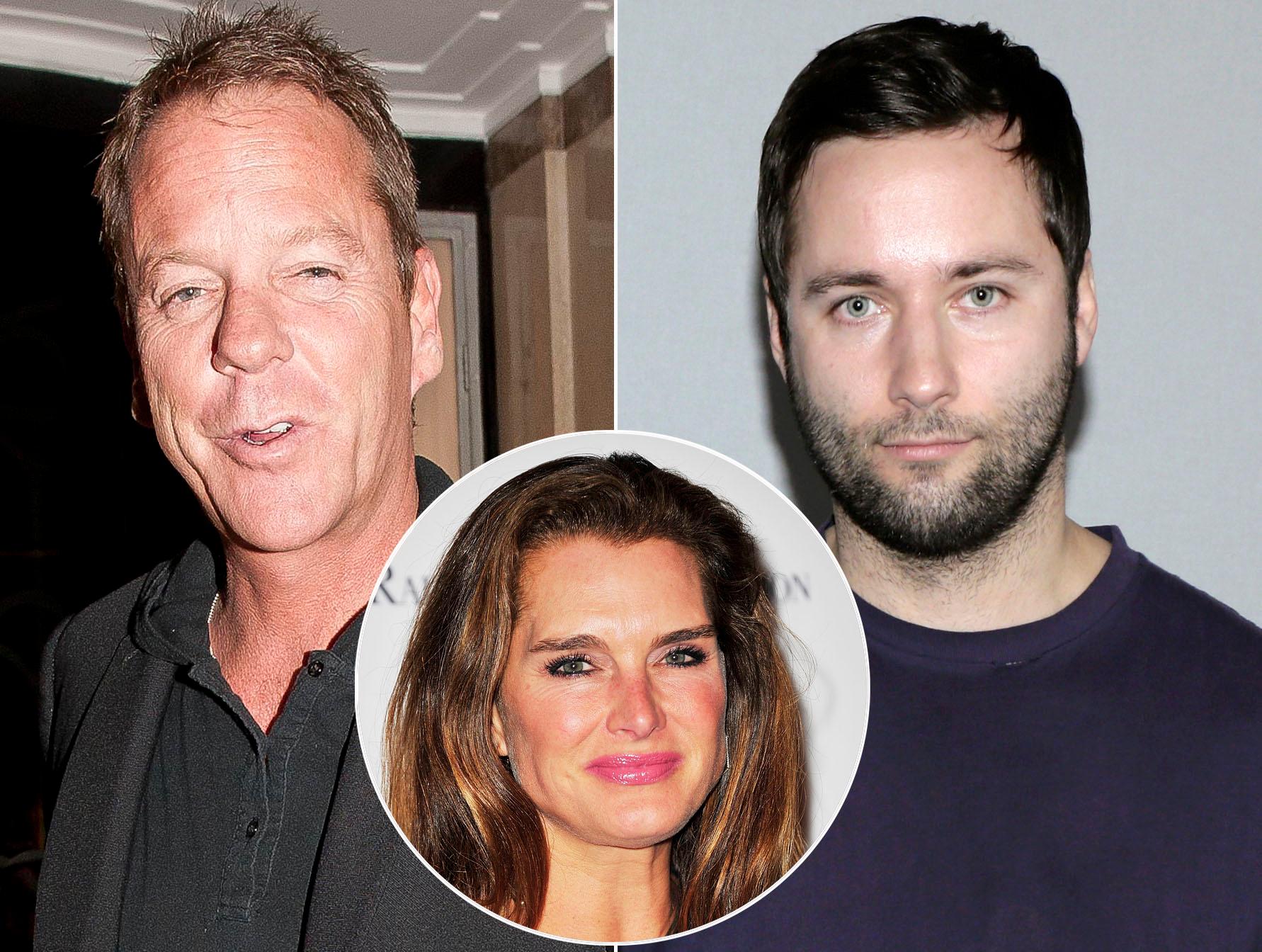 "I am sorry about what happened that night and sincerely regret that Mr. McCollough was injured." Kiefer Sutherland released that polite statement in 2009, following reports that he allegedly broke Jack McCollough's nose by headbutting him at a late night party after the 2009 Met Ball in New York. The fracas apparently started when the fashion designer allegedly bumped into Brooke Shields on his way to the bar.
Article continues below advertisement
Zahia Dehar & The Prostitution Ring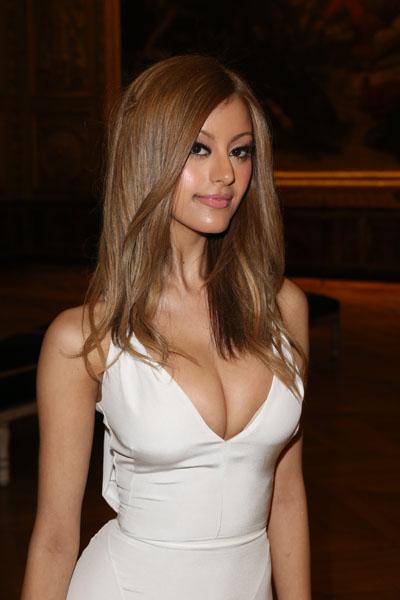 Technically Zahia Dehar caused a scandal before she ever entered the world of fashion. The lingerie designer hit the headlines in France after being at the center of an under-age prostitution case, when it emerged that three of the country's soccer stars allegedly paid the then teen call girl for sex. Zahia – now 22 – cashed in on her notoriety, working with designer Karl Lagerfeld to launch a lingerie line and a perfume.
Article continues below advertisement
Rachel Zoe & The Super Skinny Trend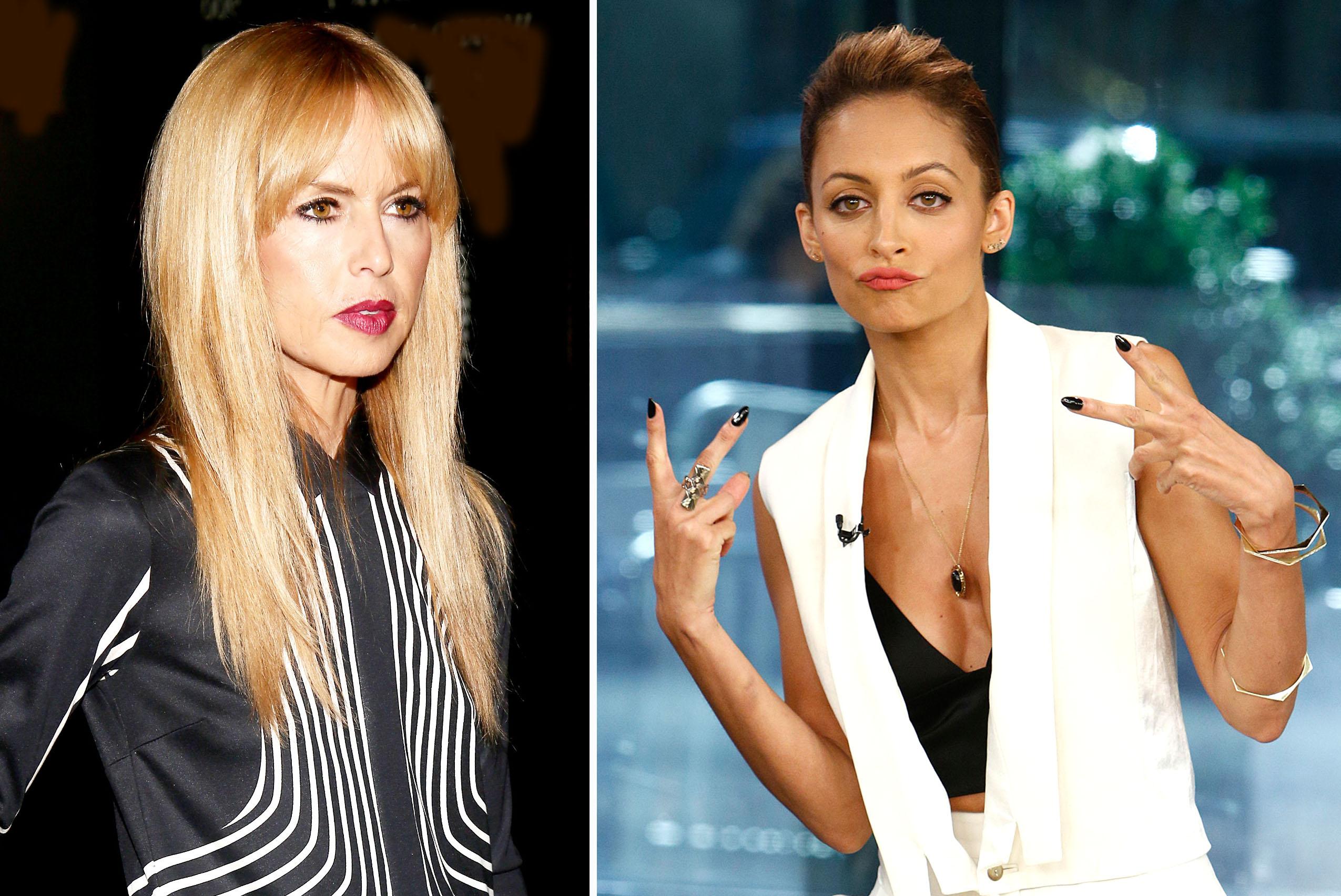 Back in the mid-2000s celebrity stylist Rachel Zoe was accused of starting a worrying trend among the Hollywood stars she worked with. Those charges only grew louder when Nicole Richie – her former client and friend – allegedly posted a blind comment on her MySpace page about a "raisin face" who "hides her deathly disorder by pointing the finger at me." Rachel denied the feud – and the claims she started the scary skinny trend – telling the UK's Hello! Magazine that her clients are "all extraordinary healthy, beautiful women."
Article continues below advertisement
Randolph Duke & The Sexual Harassment Suit
It was the best of times and the worst of times for designer Randolph Duke who, a day after dressing Hilary Swank at the 2000 Academy Awards, was slapped with a sexual harassment suit. His former personal assistant Maureen Walsh complained of allegedly being forced to hold her boss's hand during a penile enhancement surgery.