Kris Furious With 'Shady' Bruce After He 'Dates' Her Best Friend, Kimye Try For More Kids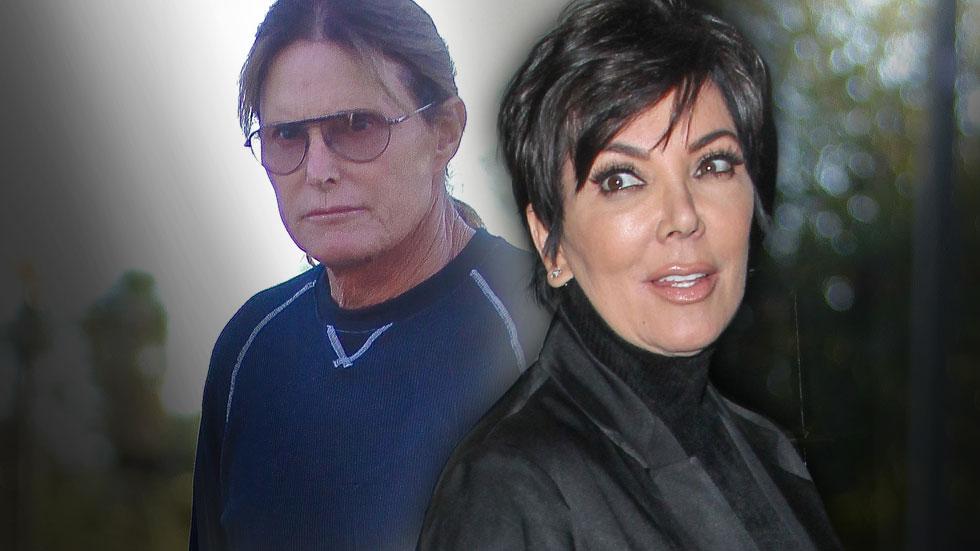 Kris Jenner unloaded on her ex-husband Bruce after he started "dating" her BFF, calling him an "a**hole" on Sunday night's 10th season premiere of Keeping Up with the Kardashians.
Although the show bleeped out the woman's name, RadarOnline.com identified Ronda Kamihira months ago and reported how Kris was devastated by her pal's relationship with Bruce.
While Bruce claimed on camera that she was just a friend, Kris and her daughters blasted the former decathlete (who has been transitioning into a female) for his insensitivity.
Article continues below advertisement
First, Kourtney Kardashian was shocked to witness step-dad Bruce getting a phone call from Kris' friend.
"Okay, I love you, bye," viewers heard the woman on the other end say, as Kourtney remarked in confessional that the whole thing was "shady."
But Bruce had confided to the cameras that he was lonely after his split from Kris, and admitted he even missed her drama.
Still, there was big drama to come after Kourtney told Kim and Khloe the news.
"It's weird Bruce hasn't mentioned to anyone talking to one of my mom's good friends," Kim Kardashian told the cameras.
After Kris learned from the girls what her ex-husband was doing, she sighed to the cameras, "It stings a little bit if Bruce is going to hang with my friends."
Later in the episode, Kim, who felt bad for her mom, decided to confront Bruce.
"Do you actually think I'm dating anybody?" Bruce scoffed.
Article continues below advertisement
"My mom cries at night about how her friend can do this to her," Kim told him.
Bruce revealed in confessional it was only a friendship, and that Kris couldn't dictate who he could see, but he decided to talk things out with the "Momager" anyway.
As Kim looked on, Kris told him, "There isn't anybody that would think that this is okay -- it's shady, Bruce."
Bruce insisted the lady was a friend and added, "I am not trying to hide anybody -- I have not done anything."
But Kris bashed her ex: "All you care about is brushing it under the rug and continually saying, 'Oh, it's okay.' Because it's okay with you, and your needs are being met. You don't care about the hurt feelings you leave along the way."
Bruce countered, "This is your problem, not mine."
Raging Kris said, "You didn't take into any consideration any of our feelings and how this would affect us. You're kind of an a**hole. I'm sorry, that's the way I feel."
Article continues below advertisement
Bruce replied, "I'm sorry if I made you feel bad … there was nothing mean in my heart ... sorry."
Kris revealed in confessional that Bruce was her best friend for years, and she had expected a little more communication and respect, but there would be "growing pains" as they both moved on.
Also on the episode, the girls threw their mom a Hawaiian-themed "Kris J needs a lei" party to counter Bruce's sons Brandon and Brody celebrating his single life with a "Bruce on the loose" bash.
As RadarOnline.com previously reported, viewers also saw Kim telling all about her sex life and attempts to get pregnant with a second child by husband Kanye West, to add to their family with daughter North.
At one point, Kim told her sisters that she was lying down because she'd just had sex with West and was hoping to conceive!
Later, there was more TMI as Kim did a nude photo shoot, and revealed to Khloe that she had forced West to visit, telling him, "I'm ovulating today!"
MORE ON:
Keeping Up With the Kardashians
Article continues below advertisement
Kim indicated they'd had sex in the bathroom of the photo studio because, "There's only a 20 percent chance of getting pregnant every month. I know that I'm ovulating right now so you gotta get it in where you can get it in."
Mario, Kim's makeup artist, revealed how West followed her into the bathroom and ten minutes later "she comes out and she had the most beautiful glow on her face, little bits of sweat dripping, and she goes, 'I gotta lay down for ten minutes.'"
Also, Kim consulted a fertility doctor as part of her "mission to get pregnant."
The reality queen desperately wanted daughter North to grow up with siblings as she had.
"Because it's been so tough, I'm seeing fertility doctor to see exactly when I'm ovulating and increase my odds of getting pregnant naturally," she said.
Kim asked the doctor if they were more likely to have a boy if they had sex right when she was ovulating (instead of a few days before), but he laughed that was a myth.
Article continues below advertisement
Later, when all the girls took Bruce to lunch, a disappointed Kim showed up and announced she'd gotten her period and wasn't pregnant that month.
But Kim admitted in confessional that she and West needed to relax and avoid planning so much.
Viewers also learned on the Sunday premiere that Khloe was taking a break with her rapper boyfriend French Montana, and sister Kourtney was relieved, saying, "He's so dumb."
Viewers also saw Bruce's son Brody diss Kim's hubby Kanye.
At a party for Bruce in Las Vegas, Brody talked to his brother Brandon, Kourtney, Scott Disick, and Bruce's son Burt about not attending Kim's wedding.
Brody said about Kim and Kanye, "I'm very happy for them, but do you think that they were really like, 'We have to have Brody and Kaitlynn Carter, his girlfriend there. If they're not there then this wedding is not going to happen.'
Article continues below advertisement
"Nobody really gave a f*ck if Kaitlynn or I went."
When Bruce pointed out that Brody had attended the wedding of Reggie Bush, Kim's ex, Brody said, "Of course! Why wouldn't I? I love Reggie. Put Kanye and Reggie together in a burning building, guess who I'm saving? Reggie all the way."
Later, Bruce's rarely-seen oldest son, Burt, mysteriously told Kourtney to say goodbye to Rob and Khloe for him because of Kris and Bruce's divorce.
But Kim later indicated all of the step-sons were family to her.
Watch the video on RadarOnline.com