Exclusive
'Furious' Kim Kut Out! Kendall & Kylie Get Own Mobile App Game As Kris Jenner Realizes 'Money Now Rides On These Two'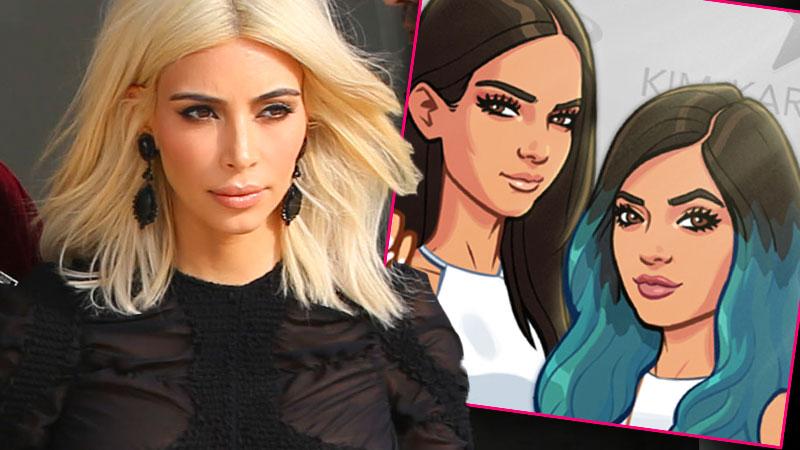 When momager Kris Jenner announced that her daughters Kendall and Kylie Jenner would be getting their very own mobile app game, a Keeping up with the Kardashians family insider tells RadarOnline.com exclusively that "everyone was thrilled for them. Except for Kim!" Now, RadarOnline.com has learned, for the original Kardashian family superstar it's just the latest sign that her younger sisters are ready to steal her crown.
Article continues below advertisement
"Kris was the mastermind behind this idea and this game is a prelude to what Kris calls 'another jackpot,'" the source says.
As RadarOnline.com reported, the family was already in turmoil when Kourtney Kardashian threatened to take legal action against Kim for using her as a character without her permission in the hugely successful Kim Kardashian: Hollywood app.
After being persuaded by the family to allow her sisters Kendall and Kylie into what Kim reportedly calls "her game," "Kim felt betrayed by Kris because and said she wanted to be the only one with a mobile app."
"Kris was the one defending her when Kourtney was trying to sue and now she goes behind her back and develops an app for Kendall, who Kim already has a vendetta against, and Kylie too."
"But Kris has been pushing this game app super hard because her ultimate goal is to have a 'Kendall and Kylie take over the world' sort of reality series," the source tells RadarOnline.com.
"Kris knows that the money now rides on these two. So, of course, Kim is even more furious."
The 59-year-old momager made the announcement via her Instagram account and said, "Guess who's joining the virtual world!!! @KendallJenner & @KylieJenner are working on their own mobile game! I'm so excited and beyond proud of my girls!"
Do you think that Kim Kardashian feels threatened by Kendall and Kylie Jenner? Tell us your thoughts in the comments below.