'Vile Scumbag Kardashian Pigs': Mom Rips Into The Kardashians, Accuses Them Of Ripping Off Son With App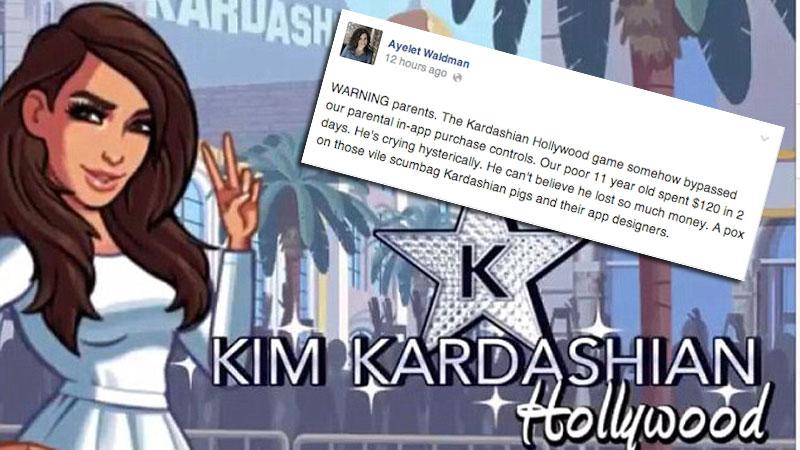 Incredibly, the Kardashians have the literary world up in arms.
Author Ayelet Waldman, the wife of respected writer Michael Chabon, has taken to Facebook and Twitter to slam the reality stars and accuse them of cheating her 11-year-old son, Abe, out of money with their game Kim Kardashian: Hollywood.
"WARNING parents, the Kardashian Hollywood game somehow bypassed our parental in-app purchase controls," Waldman, 49, sniped on Facebook. "Our poor 11 year old spent $120 in 2 days.
Article continues below advertisement
"He's crying hysterically. He can't believe he lost so much money. A pox on those vile scumbag Kardashian pigs and their app designers."
Waldman explained that somehow the game created by Glu Mobile — which reportedly rakes in $700,000 per day — bypassed the monthly $20 spending limit she and Chabon placed on their son's phone.
When their boy spent that amount, she ranted the game somehow still charged her credit card another $100.
The mom then warned others to beware of the scam: "PARENTS – if your kids have smartphones – go check in app purchases. And I advice DELETE the Kardashian game. Unless you WANT to give her $$."
In the end, Waldman said Apple refunded the cash charged to her credit card.
She also tweeted that her son got a big reality check from the not-so-fun fiasco: "Abe, age 11: Sobbing. 'I hate those G**damn Kardashians.' Also? 'I thought I was smarter than this.'"
Article continues below advertisement
Glu Mobile, the makers of the game Kim Kardashian: Hollywood, tells RadarOnline.com that Waldman's anger is misdirected.
"The Kim Kardashian: Hollywood game makes full use of all in-app purchase parental controls and Apple ID verification capabilities available on Apple's iOS and Mac App Store platforms," the company told Radar. "The game is not in any way designed to deceive players or cause unintentional purchases."
"To make an in-app purchase in Kim Kardashian: Hollywood, players must have access to the password for the associated Apple ID. Children are not able to make an in-app purchase without their parent's password."
The company stressed that "parents should exercise caution when allowing children to use their device by enabling parental controls to restrict unintentional or unauthorized purchases," as "Apple offers clear instructions for disabling in-app purchases, requiring a passcode for each download, and managing your child's account … are available at support.apple.com.