She's Gone Kookoo - Kim Tweets Baby Weight Frustrations - Wants To Lose 20 More Pounds By Way Of 'No Carbs. Crazy Workouts'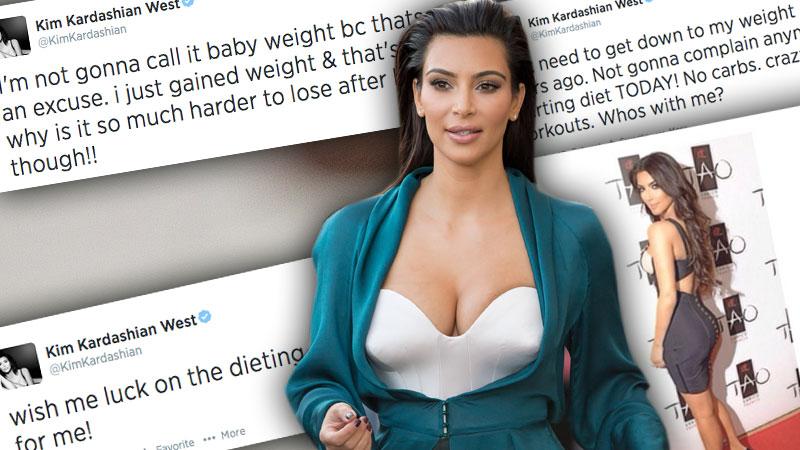 Already having lost more than 50 pounds since giving birth to North West, Kim Kardashian is still freaking out about baby weight she believes she still has to lose.
Kim went on a Twitter rampage Tuesday morning about how she still "can't seem to shake this last 15-20 lbs of baby weight." The reality star says she's "starting diet TODAY! No carbs. Crazy workouts."
The Keeping Up with the Kardashians star has reflected on her former body fairly frequently as of late, posting photos on Instagram of her #skinnydays.
Article continues below advertisement
http://instagram.com/p/rJozEDuS5V/embed/
http://instagram.com/p/qerV_3uS_L/embed/
Even though she also has been posting bikini shots regularly, Kim obviously still isn't pleased with her post-baby body. In her Twitter venting session she asked other moms how they feel about themselves.
"Do any of u moms see their bodies just not the same? a different shape? ughhhh my hips & butt are huge now! they were big to begin with!" she tweeted.
She seems to be dead set on getting back to the body she had five years ago, as she's taking drastic steps by way of "no carbs" and "crazy workouts" to lose the weight. But Kim isn't attributing her non-existent excess weight to her daughter.
"I'm not gonna call it baby weight bc thats an excuse. i just gained weight & that's it. why is it so much harder to lose after baby though!!"
Based on these Instagram shots, we're a little confused as to why she thinks she needs to lose as much as 20 pounds.
http://instagram.com/p/qmskopuSzG/embed/
http://instagram.com/p/qz7QHZOS40/embed/
Do you think Kim still needs to lose more weight or does she look great for a young mom? Let us know in the comments!