Kim Kardashian: Baby Weight Criticism 'Completely Destroyed' Me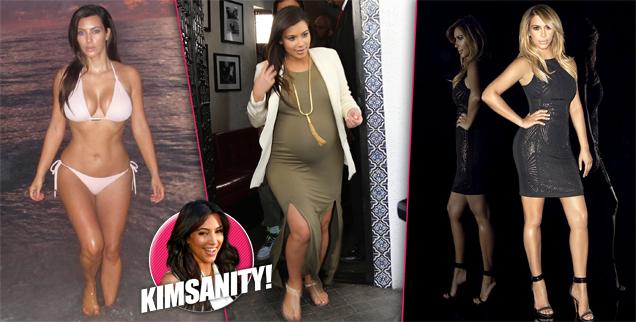 Kim Kardashian might put on a brave face when she's being compared to Shamu while heavily pregnant but in a new interview she admitted that she was "completely destroyed" by the criticism.
Kanye West's baby mama and tabloid queen has given her first post-baby interview not to an American magazine but to a tony British publication where she dished about her struggle to shed her pregnancy weight and what big changes she's making in her life.
Article continues below advertisement
Perhaps trying to compete with Kate Middleton on her home turf, Kim, who turns 33 on Monday, October 21, spoke to London's Sunday Times Style supplement about her daughter North West and how she was "completely destroyed" by her pregnancy weight criticism.
"I haven't exercised a whole lot so far, just because I've been busy with the baby and I don't want to leave her," Kim said as an excuse.
However, RadarOnline.com published the photos of her heading to a gym in Paris when she and Kanye left the baby for a week and jetted off to Fashion week.
"I still have some baby weight to go," she explained, although the white bathing suit selfie she released showed that she is definitely slimming down, and she credits a strict diet with her success.
"Atkins worked for me and I don't feel tempted to eat a bunch of junk food. It's just about staying healthy - it will come off."
Kim also said that her biggest fashion influence is now the Yeesus rapper.
Article continues below advertisement
"You want your guy to think you're really hot. I'll put something on and he'll Kanye say, 'No, that doesn't look good', and I'll trust him.'"
Changing her fashion trends up, Kim said that her daughter has also been a big influence.
"I want to dress a little lighter colorwise. I think North looks cute in light colors, and then I want to wear light colors," the happy mommy explained.
"North doesn't typically wear pink, though. She wears mauve or blush, not, like, typical baby pink."