Baby Got Back! Kim Kardashian Shows Off Her Famous Rear-End In Topless Tanning Photos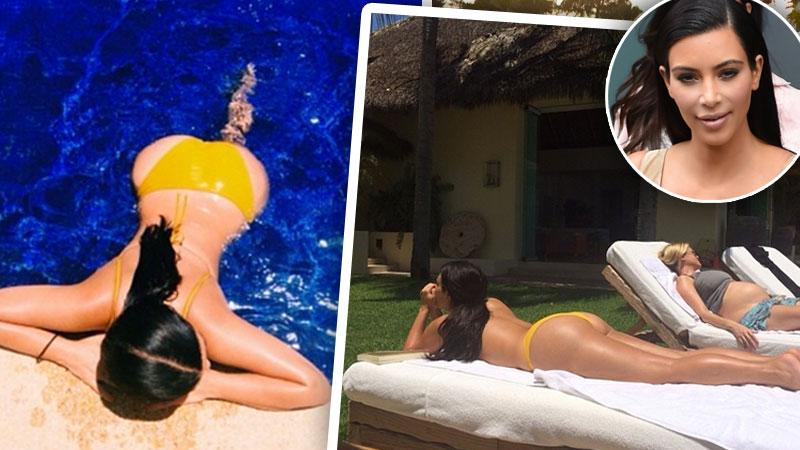 Article continues below advertisement
Kardashian appropriately captioned the Instagram photo: #OurLovelyLadyLumps
In a bright yellow two-piece, Kardashian spent her holiday at Francis' beachside estate in Mexico where she posted another photo with the spotlight on her derriere while taking a dip in the pool.
As RadarOnline.com exclusively reported, Kardashian and West aren't even two months into their marriage and sources reveal the reality TV starlet is already unhappy.
"Kim has totally morphed into the person that Kanye envisioned her to be. She's changed. From demanding Kim overhaul her wardrobe, to forcing her to hang out with his friends, Kanye has just completely taken over her life. Kim doesn't have any interests of her own that Kanye doesn't approve of," the source told RadarOnline.com.
"He constantly scrutinizes Kim, and she's constantly walking on eggshells around him. She begins every sentence with 'Kanye thinks so and so,' and 'Kanye wants this and that.' There seems to be a lack of playful banter between Kim and Kanye, and laughter," the source continued. "By all appearances, Kim looks like she has it all — a perfect husband, and a beautiful daughter — but the light and joy in her eyes is gone."
Another source exclusively told RadarOnline.com, "Kim feels trapped. She does not have control over her own life anymore and has become extremely frustrated.
"Kanye has installed a GPS tracking device on her cell phone so he knows where she is at all times. He is constantly calling her and she is required to check in with him wherever she is at."