'Battered But OK': Harrison Ford's Son Updates Father's Status, & 3 New Developments In Actor's Scary Plane Crash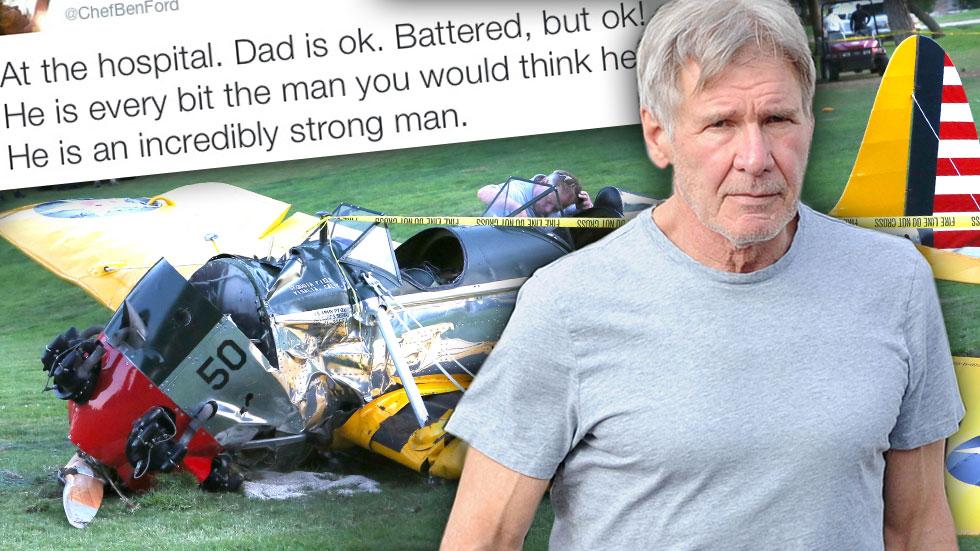 Harrison Ford is "battered but OK" following his plane crash in Venice, Calif. Thursday, his son said, as RadarOnline has all the latest in the A-lister's accident.
Family Update
Ford's chef son Ben tweeted Thursday evening, "At the hospital. Dad is ok. Battered, but ok," adding that the legendary actor "is every bit the man you would think he is" and "incredibly strong." Ben and Ford's daughter Georgia were on hand more than three hours after the 72-year-old synonymous with iconic film characters such as Han Solo and Indiana Jones went down in a vintage fighter plane, a 1942 Ryan Aeronautical ST3KR, at Penmar Golf Course. Ben, whose update was re-tweeted and favorited more than 22,000 times, later posted to the social media site, "Thank you all for your thoughts and good vibes for my dad." The Air Force One star's spokeswoman Ina Treciokas said he's expected to fully recover from the incident after the safe emergency landing.
Article continues below advertisement
Watch the video on RadarOnline.com
'A Pretty Bad Laceration'
Ford was in stable condition early Friday, officials said, as new details emerged about his initial injuries following the scary incident. The Regarding Henry star sported "a pretty bad laceration" about "the size of a pancake," an eyewitness told People of the actor's injuries as he emerged from the small yellow aircraft. "It was a clean cut and wasn't bleeding too much, considering ... it went from the middle of his scalp down his forehead to the right ... there's probably a good chance he's going to have a big scar." Luckily for the actor, a doctor was on the golf course at the time of the afternoon crash, and quickly tended to the shellshocked actor. "He was totally stunned: he was a little bit confused about what was going on," the eyewitness told the magazine. "He knew who he was and obviously that he was in an accident, but he wasn't in too much pain. He complained about his head and back."
Watch the video on RadarOnline.com
The Force Remains Strong
Many of Ford's Star Wars co-stars and other Hollywood colleagues were quick to send positive vibes toward the recovering actor. Mark Hamill, who played Luke Skywalker in the iconic series, said he hoped his co-star's flying days were over, writing, "Glad to hear Harrison is doing well. Get well soon. May all his future flights be green-screen!" Others including Billy Dee Williams and Peter Mayhew, who donned the Chewbacca costume, chimed in via social media. William Shatner, still reeling from the death of longtime co-star Leonard Nimoy a week ago, chimed in writing, "Thoughts going out to Harrison Ford for a speedy recovery."
Watch the video on RadarOnline.com