Exclusive
Bloody & Battered! Harrison Ford Treated By Paramedics At Crash Site In Shocking Video – Watch It Here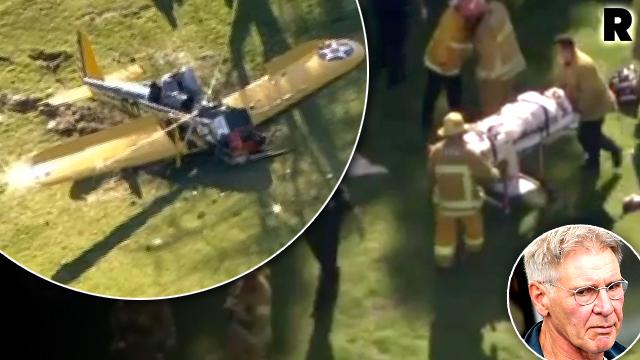 Harrison Ford's plane crash landed at Penmar Golf Course in Santa Monica, Calif, leaving the 72-year-old Indiana Jones actor with "moderate trauma" and obvious wounds. RadarOnline.com has obtained the shocking video of the aftermath of the crash, showing the terror that unfolded as Ford, who was bloody and battered, was treated at the scene by the first responders, before being taken away by paramedics to a local hospital.
Article continues below advertisement
Ford took off shortly after 2 p.m. and Santa Monica airport police confirmed to RadarOnline.com that, after getting news of the crash, the airport sent their own emergency personnel to assist. When they arrived, the L.A. City Fire and LAPD were at the scene.
Eyewitness Larry Goetz told RadarOnline.com that other golfers — including, luckily, a few doctors — rushed to Ford's aid, unaware of his identity.
Ford was conscious and breathing after the crash, and quickly transferred to the hospital, where his son, Ben Ford, tweeted that he was "battered but OK."
Watch the shocking videos here: