Exclusive
'Shorty' Speaks! Harrison Ford's 'Indiana Jones' Sidekick Calls Crash Landing 'Miraculous'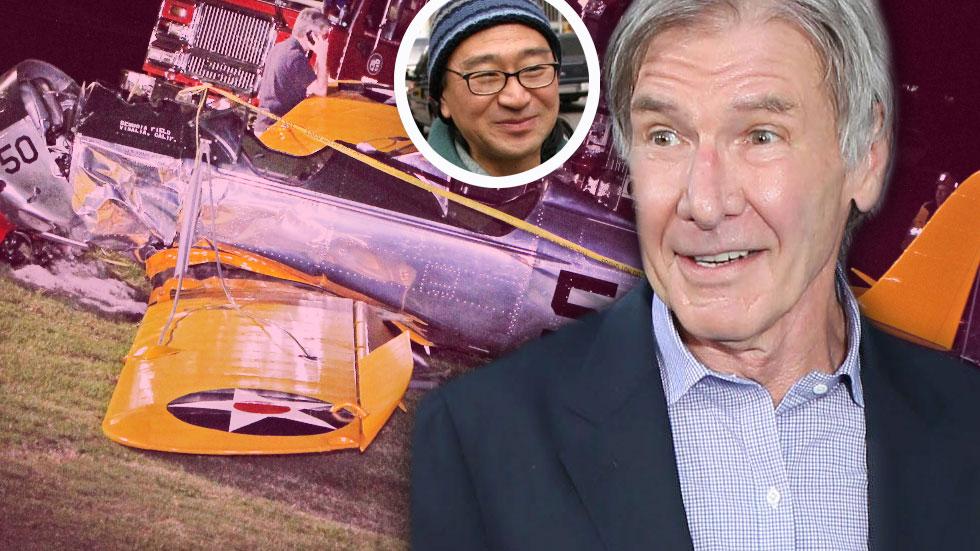 Harrison Ford's crash landing on a Los Angeles golf course last week was "miraculous," one of his Indiana Jones co-stars tells RadarOnline.com exclusively.
"He was very skillful and he was able to maneuver the plane down onto the golf course," said Jonathan Ke Quan, the actor who played Ford's sidekick "Short Round," aka "Shorty," in Indiana Jones and The Temple of Doom.
The single engine powering Ford's World War Two vintage airplane cut off moments after takeoff from the Santa Monica Airport last Thursday. Ford, like the heroes he often plays in action films, kept his cool and glided the plane back toward the runway, although it fell short and landed on a golf course fairway.
Article continues below advertisement
"He didn't nose dive," Ke Quan, now 43, noted. "That would have been horrible."
Ke Quan, who also played the gadget-loving kid Data in The Goonies, was horrified when he first saw the news of Ford's crash. "I was shocked in the very beginning when I saw it and they reported wrong and said he was in critical condition," he says. "When I read those words critical condition I was very, very nervous."
Ke Quan, a Buddhist, says he began praying to Buddha that his friend would survive. "When it got upgraded to fair and stable condition I was very relieved," he says.
He was 12 when he worked with Ford in the 1984 movie, and fondly recalls Ford teaching him how to swim while they were on location. "We went to Sri Lanka and we all stayed in a hotel and in the morning we would go to this little village to film and then afterwards all of us would head back to the same hotel and we would eat together, play," he says. "And he taught me how to swim."
Their days together convinced Ke Quan that Ford is "one of the most generous actors in Hollywood," he says. "I love the man. I had a wonderful time working with him. To be able to work with him on any movie I think is the best thing that can happen to any actor."
He was born in Vietnam, but Ke Quan grew up in California , and the role as in Indiana Jones' pint-sized assistant was his big break as a child actor. His last film acting job was 13 years ago, but he still works in the movie industry and remains a fan favorite at Indiana Jones fan conventions.