Exclusive
'Battered, But OK!' Harrison Ford's Son Reveals Condition From Hospital After 'Very Scary' Plane Crash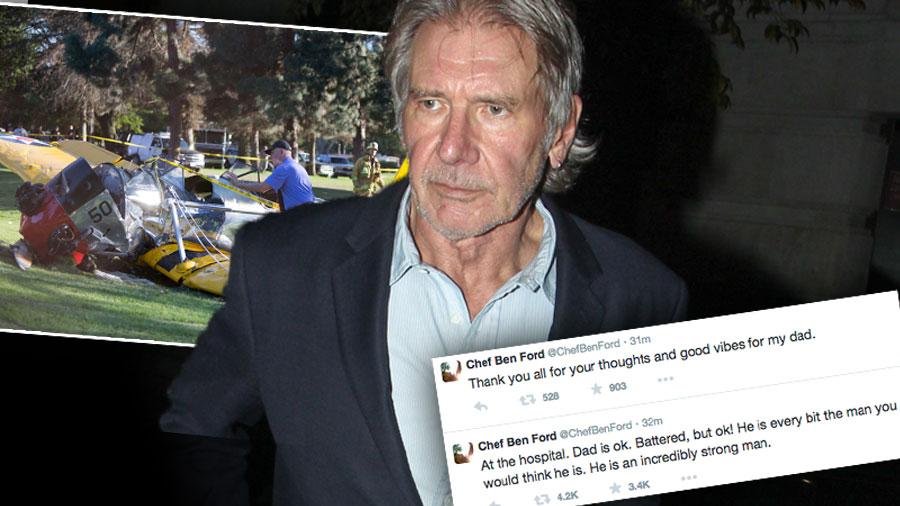 Just hours after a terrifying plane crash in Santa Monica, Harrison Ford was already on the mend. His son Ben Ford took to Twitter Thursday night to ensure fans that the movie icon would survive the breathtaking disaster.
"At the hospital," he tweeted around 5 p.m. PST on Thursday. "Dad is ok. Battered, but ok!"
"He is every bit the man you would think he is," @ChefBenFord wrote. "He is an incredibly strong man."
Article continues below advertisement
Calling the crash "#veryscary," Ford's son with first wife Mary Marquardt wrote, "Thank you for all your thoughts and good vibes for my dad."
As RadarOnline.com reported, 72-year-old Ford's engines failed shortly after his 2 p.m. takeoff from Santa Monica airport and he crash landed at Venice's Penmar golf course.
A rep for the L.A. City Fire Department said he suffered "moderate trauma" but was "conscious and breathing" when transported to the hospital.
UPDATE:
Ford's rep Ina Treciokas told RadarOnline.com, "He was banged up and is in the hospital receiving medical care. The injuries sustained are not life threatening, and he is expected to make a full recovery."
Story developing.