Truce? Amber Rose Insists 'I Don't Hate' Khloe Kardashian -- But What About Kimye​?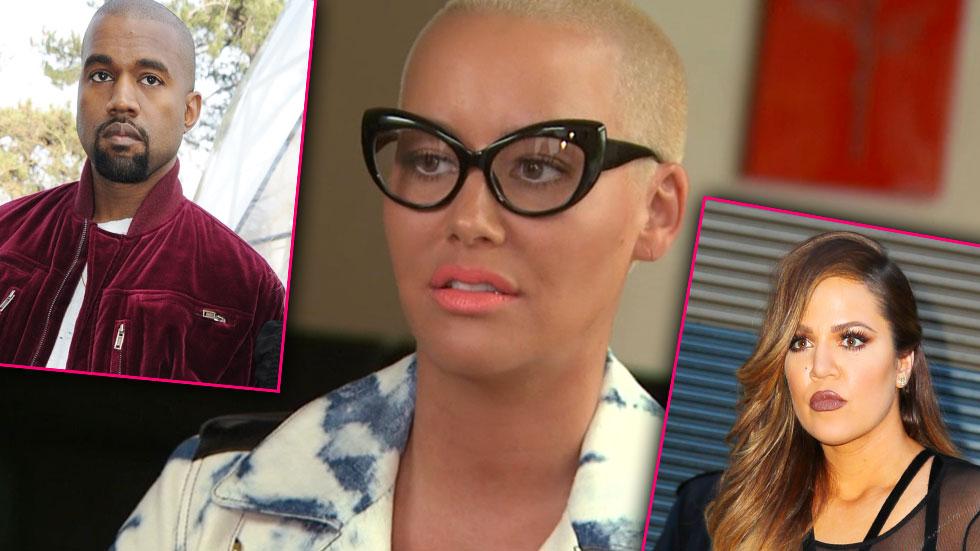 Amber Rose buried the hatchet with Khloe and the Kardashian Klan – but not before dishing on her true opinion of Kanye, Kim and the whole gang.
West's ex sat down with ET's Brooke Anderson to share her most recent feelings regarding Khloe – and they were surprising.
"I don't hate Khloe. I don't hate her," Rose said emphatically.
The beef between these two divas first boiled over when Amber criticized Khloe's baby sister Kylie for dating much-older rapper – and ex of her good friend Blac Chyna – Tyga.
Article continues below advertisement
It didn't take long for the Twitter battle to commence, starting with Khloe's stripper slurs towards Rose, seguing into Rose's digs at Kim's sex tape, and ending with a bang after West commented that he had to take "30 showers" following his relationship with the model.
"I could have totally minded my own business when it came to her sister," Rose admitted regarding the whole ordeal. "But, me being a dancer at such a young age, dealing with older men gave me the humility and knowledge to speak on such a subject. I can understand why it came across the wrong way to her. I get it. But, that's a phone call she could have had with me."
Despite all the Twitter ranting, Rose said she would love to make amends with Khloe, but not without taking one last jab in the reality star's direction:
"Khloe didn't have to tweet 11 times and try to humiliate me when, the only reason why these girls have careers is because their older sister had a little fun on tape. Let's be realistic."
Watch the Video on RadarOnline:
As for West's harsh comments towards his once-flame, Rose didn't hold back:
Article continues below advertisement
"We were happy when we were together! And now all of the sudden, I'm getting slut-shamed because we're not together anymore and it's not fair."
However, Rose did praise West's wifey Kim for turning her sex tape into a family enterprise.
"I'm all for a woman making something out of nothing. You know what I mean? If you can do something and bring your entire family on and make millions of dollars, that's dope to me. I love that."
Will the Kardashians have any more to say about Amber Rose after seeing this interview? Only time will tell!