Kat Fight! Khloe Kardashian Lashes Out At Amber Rose For Bad-Mouthing Little Sister Kylie Jenner: 'Stop Talking About Us!'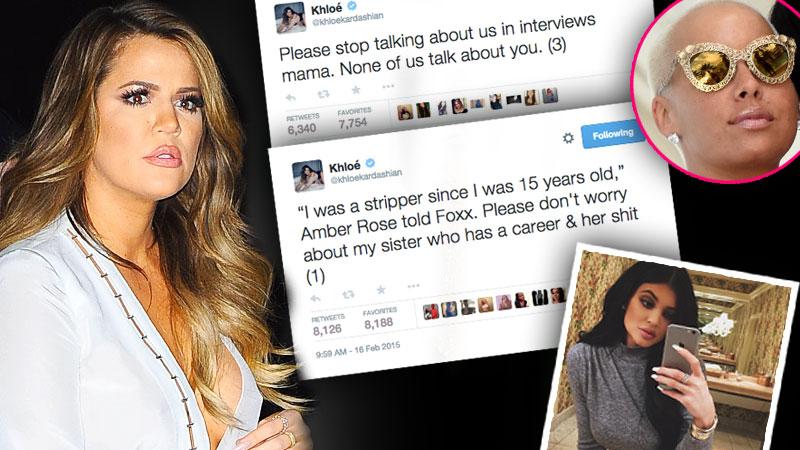 Don't mess with Kylie Jenner, or you'll have to face her toughest big sister!
Khloe Kardashian slammed model Amber Rose— who was once engaged to sister Kim's husband Kanye West— for calling Kylie, 17, "a baby."
"I was a stripper since I was 15 years old," the reality star, 30, posted on Twitter, quoting Rose in a 2011 interview. Then she got feisty.
"Please don't worry about my sister who has a career and her sh*t," she said of Kylie, who recently walked in West's New York fashion show and launched a line of hair extensions.
Article continues below advertisement
"Please stop talking about us in interviews mama," she demanded. "None of us talk about you."
Over the weekend, Rose, 31, who recently ended her marriage to rapper Wiz Khalifa,
ripped her close friend Blac Chyna's ex Tyga, who is currently dating the youngest Jenner sister.
"Kylie's a baby, she needs to go to bed at 7 o'clock and relax," she said. "Tyga should be ashamed of himself…He has a beautiful woman and a baby and left that for a 16-year-old who just turned 17."
After fans fired back about Khloe's stripper diss, she explained herself.
"Not mad she was a stripper," she said. "But don't say my sister should be in bed by 7 when she wasn't."
"We get asked questions about people all the time and my sisters and I always take the high road and don't answer," the outspoken star continued. "….I don't know Amber, so why would I comment on her. I'm not going to comment on someone I don't know….I would think others would want the same respect."
Khloe has even more reasons to be angry at Rose. In a recent radio interview, she slammed Kim as "fake" and said that while the reality star, 34, has the potential to be "really dope," she's simply "not."
Was Amber out of line for talking about Khloe's sisters? Sound off in the comments.