Exclusive
Too Much, Too Soon? Kris Jenner Lets Kylie Jenner's Older Boyfriend Tyga Spend The Night At Her Home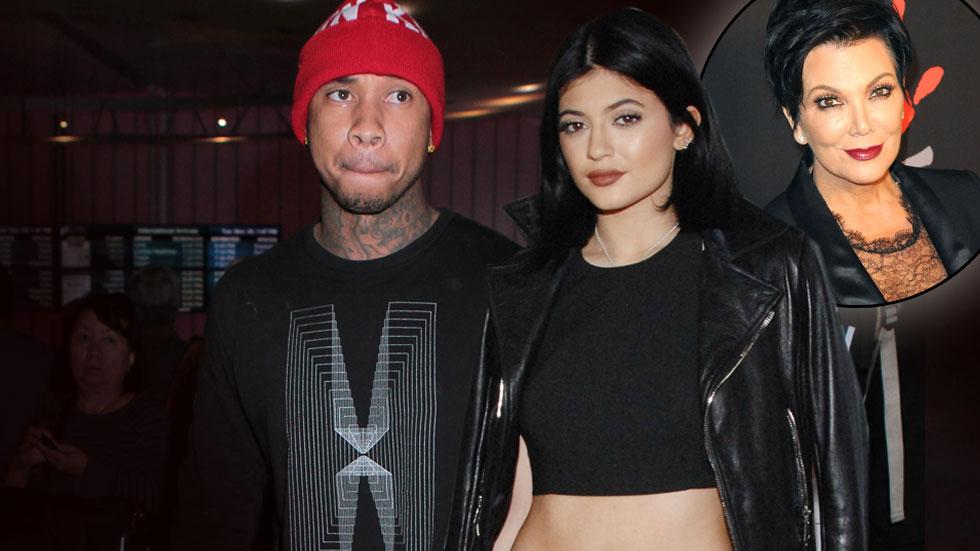 Growing up too fast? RadarOnline.com has learned that Kris Jenner allows her youngest daughter, Kylie, 17, to have overnights with her boyfriend, Tyga, 25, at her Hidden Hills mansion.
"There are many nights that Tyga just crashes at Kylie's house, with Kris' blessing," an insider told Radar. "Kris is very liberal with rules for Kylie, and allows her to throw parties all the time at the mansion."
"Kylie's dad, Bruce, doesn't like Tyga spending the night at the house, but he is really powerless to do anything," the source said. "Kris and Bruce have fought about it, and he has accused her of being a friend first to Kylie, and not acting like a mother."
Article continues below advertisement
Complicating matters, Kylie's half sister, Kim Kardashian, disapproves of the relationship because Tyga is the baby daddy of her best friend, Blac Chyna, who has a son, King Cairo Stevenson, 2, with him.
"Kylie doesn't want Kim's advice and told her that she is the last person to ever give advice on relationships," the source previously said.
The source continued, "Kylie will soon be turning eighteen, and Kris doesn't want to do anything that would cause her to move out sooner. Kris has always wanted to be the cool mom, and isn't concerned Kylie is growing up too fast."
Do you agree with Kris Jenner's parenting? Let us know in the comments!