'I Had To Take 30 Showers Before I Got With Kim' Kardashian: Kanye West Drops Bombs On Amber Rose, After Week Of Warring Words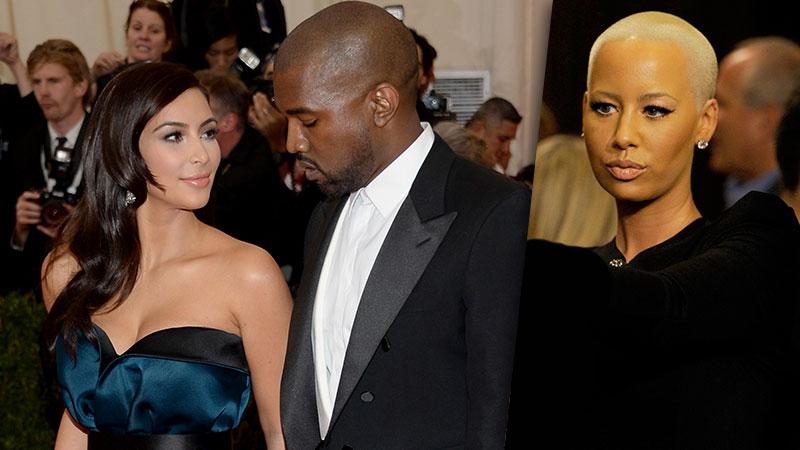 Kanye West said he had to take "30 showers" before he hooked up with Kim Kardashian, coming off his relationship with one-time stripper Amber Rose.
The "Hold My Liquor" singer, appearing on Power 105's The Breakfast Club, took a coarse shot at his ex after a whirlwind week in which the short-haired stunner rained insults on the Kardashian family, most boldly calling Kim Kardashian, a "wh*re."
Asked about Rose's rants, the rapper said the Philadelphia beauty was "just soaking in the moment," and "nobody in the family's inner circle feel compelled to do nothing."
Article continues below advertisement
Then, in a nod to his own star-making powers, he boasted, "If Kim had dated me when I first wanted to be with her, there wouldn't be an Amber Rose, you know what I'm saying?"
Watch the video on RadarOnline.com
The 37-year-old then topped it off in comparing his socialite spouse with Rose, a sex symbol who once worked as a stripper.
"By the way, like, it's very hard for a woman to wanna be with someone that's with Amber Rose," he said. "I had to take 30 showers before I got with Kim!
"Don't ask me no more, I just want to be respectful."
He kept things coy when asked about one of the sparks in the Rose-Kardashian feud -- Kylie Jenner's rumored romance with Tyga.
"I think he got in early, I think he was smart," he said of the rumored romance between the 17-year-old and 25-year-old rapper. "They are closer in age than a lot of relationships that I know. I knew Tyga was smart.
"Yeah, I can't speak on nobody's relationship."