Amber Rose Strikes Back! Model Slams Khloe Kardashian With Sex Tape Diss, Calls Kim A 'Wh*re!'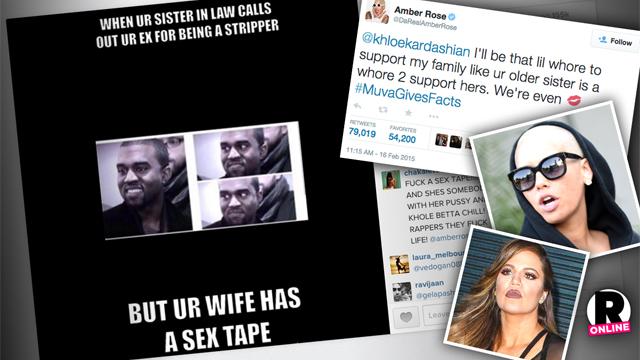 "When ur sister in law calls out ur ex for being a stripper," she wrote. "But ur wife has a sex tape." As fans know, Rose was engaged to West before he wed Khloe's sister Kim, 34, who infamously launched her reality TV career with a sex tape in 2007.
Article continues below advertisement
She then posted another meme of Kanye talking to the Kardashian/Jenner family, also including Kendall, 19, momager Kris, 59, and Kim and Kanye's 1-year-old daughter North.
This one seemingly sent a threat to the klan.
"She's from South Philly, yall might not want this problem," the South Philadelphia native posted.
She then directly addressed Khloe on Twitter. "I'll be that lil whore to support my family like ur older sister is a whore 2 support hers," she said. "We're even."
Khloe seemed disgusted by Rose's quick response. "Point was proven," she fumed. "She can't even wait 10 mins before mentioning one of our names SMH."
Are you on Team Khloe or Team Amber? Sound off in the comments.