Foot-In-Mouth? Twitter Users Laugh Off Kim Kardashian's Mushy Post About A Mother's Duties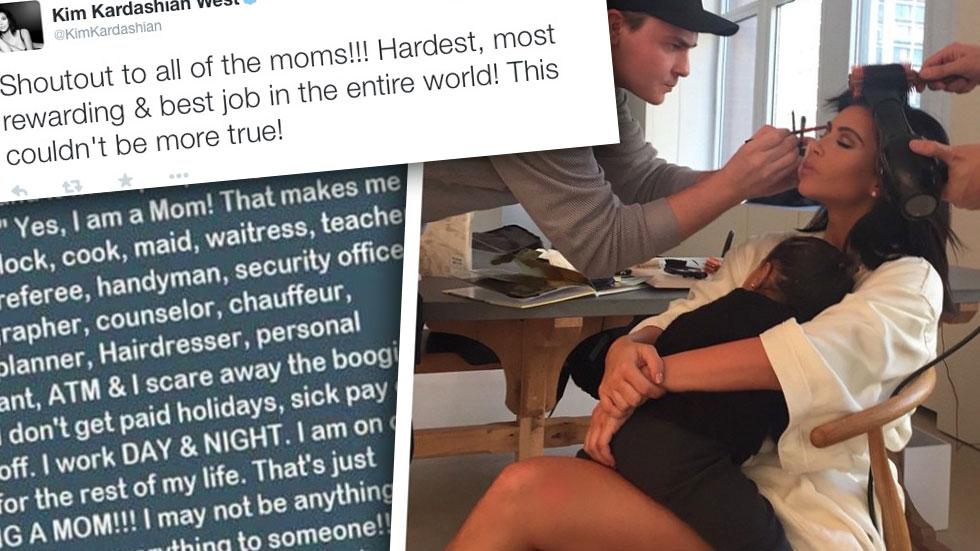 After posting a quote about a mother's many duties, Kim Kardashian received angry responses from users who claimed she does none of those things for her daughter, North West.
The brouhaha began late Wednesday, when the 34-year-old reality star posted a block quote titled "JUST A MOM????....." touting a laundry list of parenting roles, including being "an alarm clock, cook, maid, waitress, teacher, nurse, referee, handyman, security officer, photographer, counselor, chauffeur, event planner, hairdresser and a personal assistant."
Article continues below advertisement
Kim accompanied the quote writing, "Shoutout to all of the moms!!! Hardest, most rewarding & best job in the entire world! This couldn't be more true!"
Of course, plenty of Kim's 29 million Twitter followers had instant feedback for the Keeping Up With The Kardashians star, amid frequent critiques that she's often put her daughter on the back burner to focus on her life as a celebrity.
One user under the handle @jenny_kayyy lashed back, writing, "YOU DID NOT JUST POST THAT!!! A cook? A maid? An alarm clock?!!! Does North even see you?" Others, such as @claireprich, called the Vogue covergirl "literally, the most delusional celebrity out there," while @Jessica_adams24 responded in saying, "Yes and your maids and nannies get paid well!" A user under the handle @TonyFeole joked, "The day that you do even half of those 'motherly duties' will be the day I have the abs of Zac Efron. Jesus, Kim!"
As RadarOnline.com previously reported, Kim has come under frequent fire for a number of incidents related to the topic at hand, including when she emerged from a Parisian lobby without her daughter last fall, and a December one in which she cropped the child out of a photo because she was "feeling her look!" In addition, she was recently chided by fashion powerhouse Anna Wintour for inappropriately bringing the toddler to a number of New York Fashion Week events, where North's outbursts peeved stars such as the editrix herself, as well as music star Nicki Minaj.
Readers, do you think Kim deserved the backlash for her parenting post?