Zac Attack! Efron's SHIRTLESS Escapade Tops The 7 Most Memorable Moments Of The 2014 MTV Movie Awards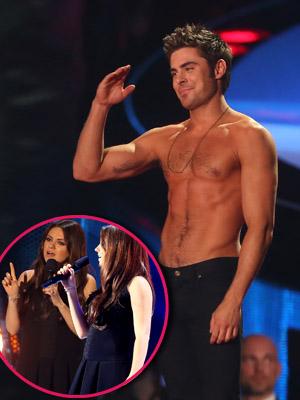 RadarOnline.com has you covered on the seven best moments of Sunday's 22nd Annual MTV Movie Awards from the Nokia Theatre in Los Angeles.
A Somewhat Awkward Moment
High School Musical hunk Zac Efron shrugged off a series of questionable incidents to embrace the limelight at Sunday's show, flaunting his swimmer's body sans top as he accepted the award for Best Shirtless Performance for That Awkward Moment. The 26-year-old, who has been linked to drugs in the past year, said, "I don't really know what to say, but thank you so much to my fans," at which point presenter Rita Ora tore off his shirt to give the ladies in the crowd a thrill. Efron, who sported a bit of fake bake, later tweeted at Ora, "Thanks for such a bold move. I don't know if I could've done that on my own."
Article continues below advertisement
Watch the video on RadarOnline.com
2014 MTV Movie Awards - Latest Movie News
Dynamic Duo
Rihanna and Eminem rehashed the magical chemistry they had on 2010's "Love The Way You Lie" with an energetic performance of "The Monster" at the show, which had the crowd singing along and dancing. The Caribbean Queen, 26, and "Drug Ballad" singer, 41, are slated to team up for an exclusive tour this summer Los Angeles, New Jersey and Em's hometown of Detroit.
Watch the video on RadarOnline.com
Eminem - The Monster feat. Rihanna (Live) - Music - More Music Videos
Elegant & Expectant
While it's hardly a secret to RadarOnline.com readers that Mila Kunis is pregnant with fiancé Ashton Kutcher's child, and the 30-year-old stunner did her best to quell the expectant look as she collected her trophy for Best Villain for her role in Oz: The Great And Powerful in a small black dress that helped downplay the nascent celebrity child. Kunis said in her acceptance speech, "This is, by far, the coolest award. And I just realized I was the only woman nominated, and I won! So thank you guys."
Article continues below advertisement
Conan Shines In Spotlight
Bits, bits and more bits fueled the evening for the late night host, including a quest to get 50 of the celebs on hand to make cameos in his monologue; wearing a buff suit to match some of the beefcakes present at the ceremony; and using the threat of an X-rated selfie to any winner who rambled on too long (Tatum was a victim of this). He said as he kicked off the show, "Fire, explosions and rap music — all things you associate with Conan O'Brien!"
Watch the video on RadarOnline.com
2014 MTV Movie Awards - Latest Movie News
Hungry Like The Wolf
Jonah Hill's memorable turn as incestuous stock swindler Donnie Azoff in The Wolf Of Wall Street was heralded as Oscar-worthy by many, but ultimately got edged by Jared Leto's career performance in Dallas Buyer's Club. Nonetheless, the fast-rising actor, 30, did get a measure of vindication Sunday, collecting the popcorn statuette for Best Comedic Performance for the brilliant performance, and made sure to thanks the film's catalysts, Leonardo DiCaprio and Martin Scorsese, who he hailed as the best actor he'd ever worked with, and his "favorite person of all time," respectively.
Article continues below advertisement
Watch the video on RadarOnline.com
2014 MTV Movie Awards - Latest Movie News
Boogie Night
Mark Wahlberg tags was well-honored with the MTV Generation Award Sunday, joking about his career trajectory in accepting the hard-fought honors. "I know what this really means: You're done," the one-time Dirk Diggler, 42, said in his acceptance speech. "Many people have gotten this award before. Jim Carrey, Adam Sandler, Ben Stiller, Jennifer Aniston ... and you know what they all have in common? They're all old. This is the too old to come back award. But it was as great run! I'm a lucky guy to have gone from being incarcerated to having a one-hit rap career to having an underwear modeling career to ... I'm about to cry in a minute."
Watch the video on RadarOnline.com
2014 MTV Movie Awards - Latest Movie News
Another Notch In The Belt
Like Wahlberg, hunky leading man Channing Tatum, 33, was also honored for his career exploits, getting the Trailblazer award for his solid career-to-date, while include hit films such as Magic Mike and White House Down. His 21 Jump Street co-star Hill ribbed him a bit in his intro, asking, "Who's been more of a trailblazer than Chan? Think about the idea of a trailblazer -- a super good-looking guy who becomes the lead in movies. That is an amazing trail-blaze!" The Alabama-born Tatum oozed modesty as he took home the trophy. I'm not really sure what I did to deserve this," he said. "It's weird because 10 years ago I was sitting in front of my TV watching the show just like people at home right now, and I didn't have the faintest thought that I could actually be up here talking to y'all. I had no idea if I'd be good at anything, much less acting, and when I think about what's gotten me from there to here, it has to do with you guys. And I thank you so much for everything."