North Throws Another Tantrum, Kanye Smiles & Nicki Isn't Having It!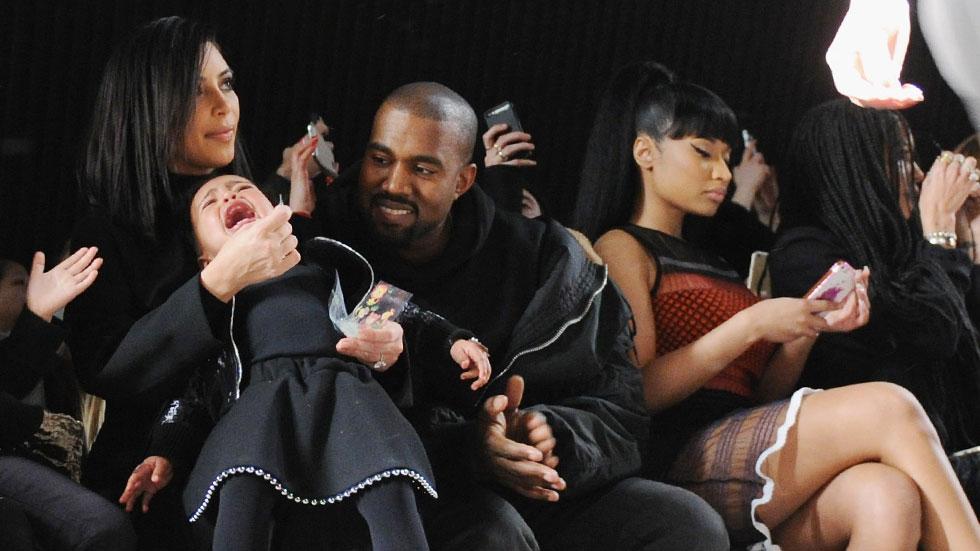 The West-Kardashian family has struck again! Kanye and Kim became the main focus at Alexander Wang's Valentine Day show for New York Fashion Week when their 19-month-old daughter had a major meltdown.
The little girl's fit was accompanied by a very rare event — Kanye couldn't help but smile while he nervously tried to get her to calm down.
Not smiling? Nicki Minaj was clearly not amused with the commotion caused by the tiny scene-stealer.
Article continues below advertisement
This is the second time North has made a fashion fuss. As RadarOnline.com reported, the youngster had Beyonce, Jay Z and Vogue editor Anna Wintour looking less than pleased when she cried while sitting on her 34-year-old mom's lap at Kanye's Feb. 12 Addidas show.
"Maybe she was just scared for her daddy," Kanye, 37, joked after the event. "She just wanted people to stop being mean to her daddy. Because she knows that her daddy loves the world and just wants to make it a more beautiful place."
Should Kim and Kanye leave their daughter at home, or is she old enough to be attending fashion shows?