Enough Is Enough: Anna Wintour Tells Kim Kardashian & Kanye West Not To Bring North To Fashion Shows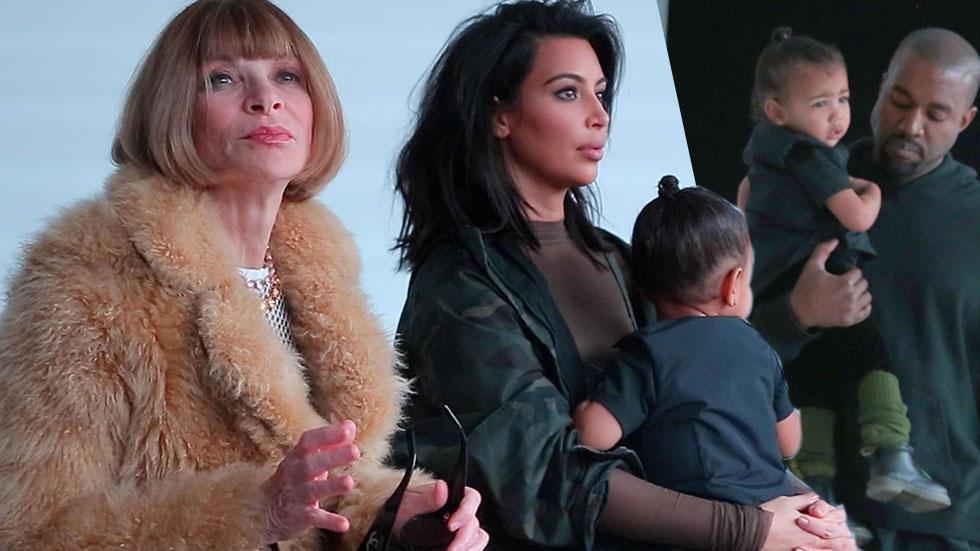 Kanye West and Kim Kardashian got a talking-to from Anna Wintour after they brought their toddler to two fashion shows last week, where she burst into tears both times.
As RadarOnline.com previously reported, the precious toddler had no patience for the avalanche of catwalk crawlers and flashing bulbs during New York Fashion Week, bursting into tears at both Kanye's Adidas show, and an Alexander Wang showcase.
Article continues below advertisement
"They've been toting her all over town like she's a new handbag," a source told Australia's Nine MSN" and Anna doesn't think it's right to force her to go to everything."
The fashion powerhouse wasn't intimidated to give a piece of parenting advice to one of the world's most famous couples, telling them that Fashion Week is an inappropriate place to bring such a young child.
"Kim was embarrassed that she was scolded by Anna," the source said, noting that the child herself was clearly uncomfortable during the outings. "Nori's face in most of the photos says it all: She is frowning, almost terrified, and some of the photos that were deleted had her hysterically crying.
"She was exhausted."
Wintour -- who infamously put the power couple on the hallowed cover of Vogue -- advised the pair to watch the way Victoria Beckham navigates between the worlds of fashion and family, keeping the two worlds at a distance after the requisite photo-ops.