Exclusive
Innocent? Bobbi Kristina Brown Boyfriend Nick Gordon Insists He'll Be Cleared By Police — 'Only Regret' Not 'Faster To Give CPR'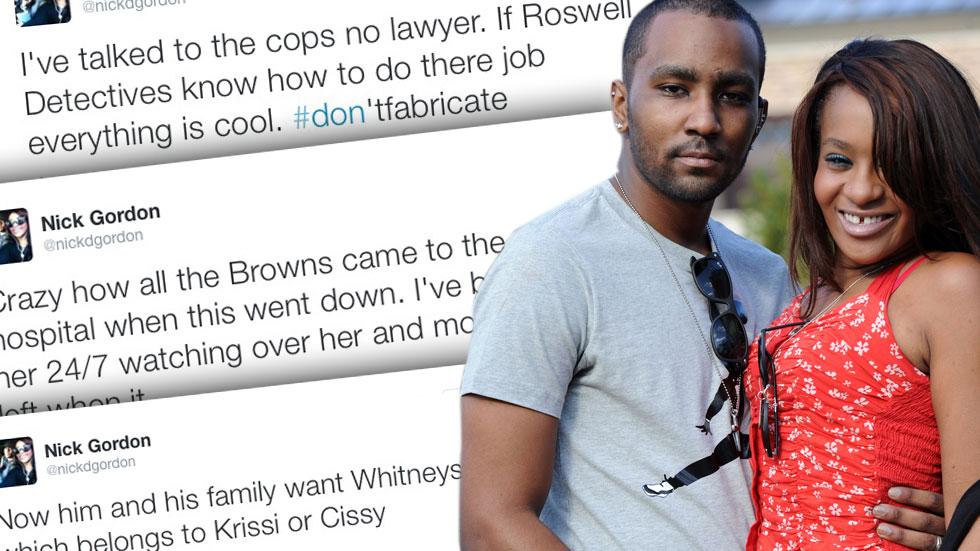 The man Bobbi Kristina Brown called her husband insists he did nothing wrong and his "only regret" is not getting to her "faster to give CPR." Nick Gordon responded to complaints that he has not cooperated with police who are investigating Brown's near-drowning in an epic Twitter rant Monday morning.
"I've talked to the cops no lawyer," Gordon tweeted Monday. "If Roswell Detectives know how to do there sic job everything is cool. #don'tfabricate."
Article continues below advertisement
Gordon also tweeted that he would be cleared of any suspicion in the near-drowning if Bobbi Kristina wakes up from the coma and his able to talk: "When she wakes up and tells the truth I wish I could see the look on your faces."
Bobbi Kristina was found non-responsive in her tub on January 31. Gordon and his friend Max Lomas say they frantically tried to revive her while waiting for paramedics to arrive at the suburban Atlanta home.
"CPR for 10-15min responding officer didn't take over until EMS came it's like re living my worst nightmare!!!!" he tweeted Monday.
Bobbi Kristina has been in a coma ever since, and Gordon has been working to convince Bobby Brown, the father of Whitney Houston's daughter, to let him visit her bedside. But his frustration after three weeks of being banned is now exploding on Twitter.
"Crazy how all the Browns came to the hospital when this went down," Gordon tweeted Monday. "I've been with her 24/7 watching over her and mom. Bobby left when it Got heavy."
Article continues below advertisement
He added that Bobby has only seen his daughter four times in the last five years. "Now him and his family want Whitneys $$$ which belongs to Krissi or Cissy," Gordon tweeted.
Houston left her fortune to her daughter in a trust fund that her will says should go to other members of the Houston family if Bobbi Kristina dies before her 30th birthday. An earlier version of the will, signed in 1993, also named her then-husband Bobby as a beneficiary.
MORE ON:
Bobbi Kristina Brown
"Go check out the few pics he has with her," Gordon tweeted, referring to Bobby. "Check out Kris and I pics. Dude is a joke played out. He is here for publicity."
However, some members of the Brown and Houston family say Gordon alienated Bobbi Kristina from her father and other relatives in the three years since Houston's death.
Gordon did get some support from a Brown family member Monday. Jerod Brown, the son of one of Bobby's sisters, posted a tweet that Gordon then re-tweeted: "I really felt if she was in danger she would've told me. She only spoke highly of @nickdgordon ...never downed him only uplifted him #Facts"
Article continues below advertisement
Gordon also revealed that he has attempted to visit Bobbi Kristina at the hospital where she is in a medically-induced coma. "I've been to the hospital bet you didn't know that with Tyler Perry my baby's lawyer and a couple of AUNTs," he tweeted. "With death threats from the Browns don't ever say I didn't try."
RadarOnline.com first reported that he visited her bedside on her first night in the hospital, but was removed by cops.
Gordon's lawyer gave a statement to RadarOnline.com Sunday saying that he advised his client not to meet the conditions that Bobby set before he would even consider allowing Gordon to visit her bedside. "If Bobby can guarantee me that I can see her 24/7 I'll meet the conditions," Gordon tweeted.