Bobbi Kristina Brown's Cousin Questions Putting Her On Reality Show Shortly After Whitney Houston's Death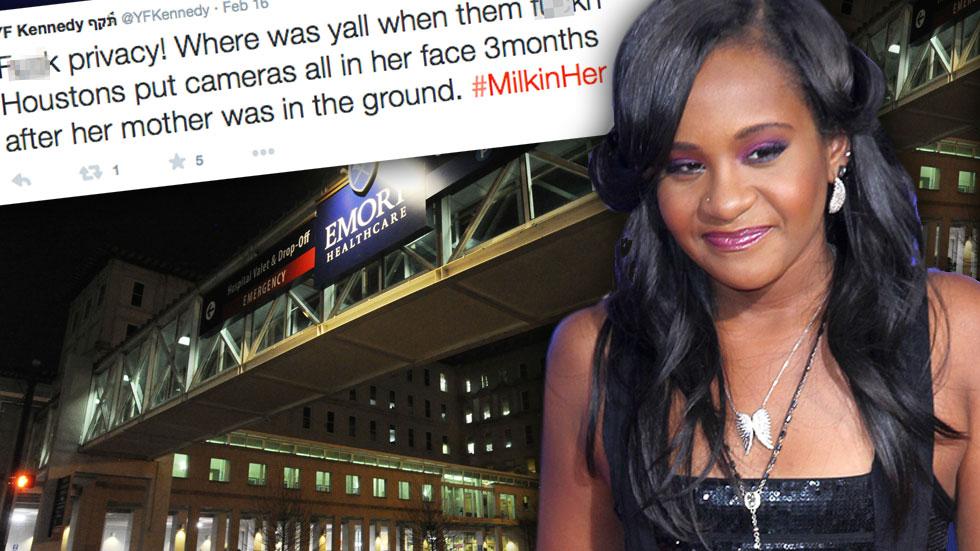 Bobbi Kristina Brown's waning health continues to place strain on her family, as her cousin Jerod Brown has taken to social media to vent about the ongoing tension.
Jerod had an angry reaction to Bobby Brown's recent statement that "he must be disregarded" after speaking with a number of media outlets, and organizing "a meet and greet" in Atlanta last week. In response, the "Every Little Step" singer said in the statement, "This is a criminal investigation and we do not need this side show."
Article continues below advertisement
Jerod, an aspiring entertainer, tweeted on Monday in reference to the reality show The Houstons: On Our Own, saying the family exploited the young lady during the toughest times of her life.
He wrote, "F*ck privacy! Where was yall when them f*ckn Houstons put cameras all in her face 3months after her mother was in the ground. #MilkinHer."
On Tuesday, he posted a separate statement to Facebook to again address the issue, saying that "statements were made about me that I had no authorization to gather the world to pray for my cousin but I encourage you to continue to pray and so will I.
"However you all can delete me at this point because I do not need you to support my career and never asked you guys to. The mission was only for Bobbi Kristina. God Bless you all!"
As RadarOnline.com previously reported, the 21-year-old remains hanging onto life at Atlanta's Emory Hospital after she was found in her bathtub face-down Jan. 31.