Exclusive
$20M At Stake! Whitney Houston's Will Reveals Who'll Get Her Estate If Bobbi Kristina Dies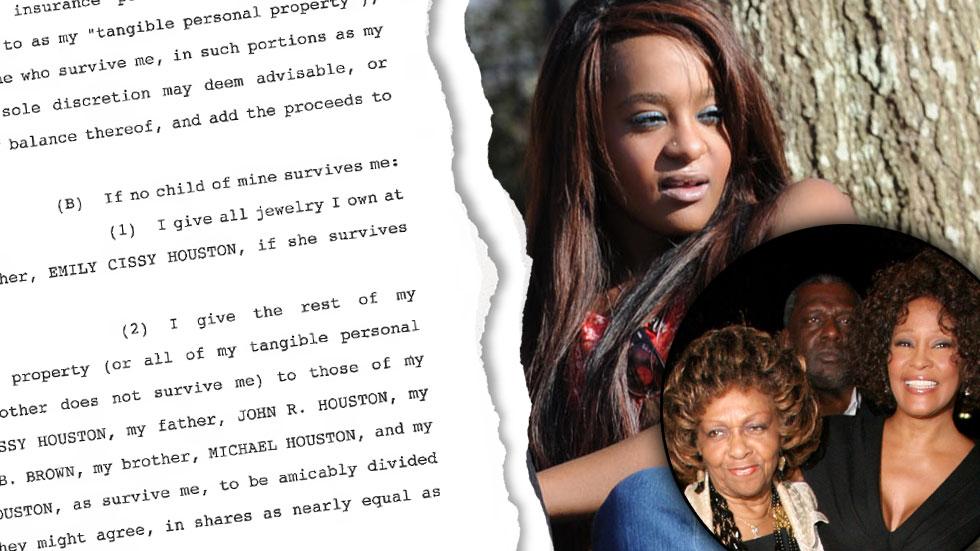 Whitney Houston's will included a secret provision for the distribution of her estate in the event of Bobbi Kristina Brown's tragic death. Now, as the 21-year-old lies brain dead in an Atlanta hospital, RadarOnline.com can reveal all the details of who could get her millions.
Terms of Whitney's 1993 Last Will & Testament dictate that if daughter Bobbi Kristina "doesn't survive her," the estate shall be divided by her mother, Cissy, and other family members.
Article continues below advertisement
With media reports revealing Whitney's only child is brain dead, and that doctors have told her father, Bobby Brown, 46, it's time to withdraw life support, terms of the late singer's will are under scrutiny. Now, the family could be prepared to go to battle over the contents of the estate, estimated to be worth $20 million.
Whitney appointed her mother, Cissy as executor of the will, and after her death three years ago, her sister-in-law, Pat Houston, became co-executor.
The will, which was completed before Whitney divorced Bobby, states, "If no child of mine survives me: I give all jewelry own at my death to my mother, Emily Cissy Houston, if she survives me; and I give the rest of my tangible personal property to those of my mother, Emily Cissy Houston, my father, John R. Houston, my husband, Robert Brown, my brother Michael Houston, and my brother Gary Houston, as survive me to be amicably divided among them as they might agree, in shares as nearly equal as possible."
Article continues below advertisement
Whitney's father, John, died in 2003, and she divorced Brown in 2006. Because of the divorce, Brown will be unable to make any claims on his late wife's estate.
Under terms of the will, Bobbi Kristina received 10% of her mother's estate when she turned 21 earlier this year.
At age 25, Bobbi Kristina would have received one sixth, and the remainder at 30-years-old.
This would have included full royalties from Whitney's music, likeness and image.
In 2012, Cissy and Pat Houston, filed legal documents asking a judge to change the terms of when Bobbi, 19 at the time, would get the money.
Court documents stated Bobbi Kristina, who was dating Nick Gordon at the time, would be a "highly visible target for those who would exert undue influence over her inheritance and/or seek to benefit from Bobbi Kristina's resources and celebrity."
The matter was eventually settled out of court, with no changes being made to the distribution timing of money or assets.