Exclusive
Top-Secret! Prince Andrew's Pedophile Pal Jeffrey Epstein Begs Judge To Seal Correspondence About His Sweetheart Plea Deal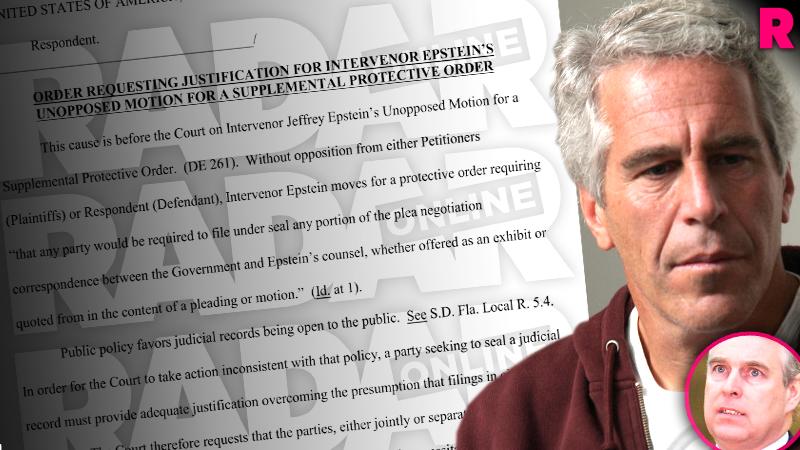 Prince Andrew's pedophile pal, Jeffrey Epstein, is fighting to keep details about his sweetheart plea deal secret, as a judge rules the kinky billionaire must cite the "extraordinary circumstances" for it to remain under wraps, RadarOnline.com is exclusively reporting.
Epstein is being sued in civil court by four women, who say federal prosecutors illegally ignored them and kept them in the dark while they negotiated with the billionaire for a plea deal.
Article continues below advertisement
In the latest round, Epstein's legal ace, Roy Black, filed a motion in the lawsuit asking for any legal correspondence and communications about the plea deal to be filed under seal. According to reports, that plea deal was constructed so as to offer Prince Andrew immunity.
The women claim Prince Andrew and "many other powerful men" lobbied the U.S. government to go easy on Epstein. Epstein eventually pled guilty to two relatively minor state underage sex charges that put him in a local jail for 13 months.
Black asserted in the filing that the protective order was necessary "to require that any party would be required to file under seal any portion of the plea negotiation correspondence between the Government and Epstein's counsel, whether offered as an exhibit or quoted from in the content of a pleading or motion. Such a redacted filing would in all other respects be filed as a public filing unless subject to other orders of the Court, and each party would reserve the right to move to unseal any redacted pleading or sealed exhibit." The motion states that lawyers for the women don't object to the proposal.
Article continues below advertisement
However, Judge Kenneth Mara has asked for an explanation as to why the motion should be granted, citing the fact that "public policy favors judicial records being open to the public."
"In order for the Court to take action inconsistent with that policy, a party seeking to seal a judicial record must provide adequate justification overcoming the presumption that filings in civil cases be public," the judge wrote. "The Court therefore requests that the parties, either jointly or separately, submit filings setting forth the extraordinary circumstances or particularized needs necessitating a seal in this case​."
The women want a judge to reject the plea deal that allowed the billionaire to avoid prosecution on federal human trafficking charges that could have carried life sentences.
The secret non-prosecution agreement ended FBI and federal grand jury investigations into allegations that Epstein held sex slaves that he loaned to his powerful friends and claims he sexually abused dozens of underage girls.