Exclusive
Tragic Tale: Mindy McCready's Mom Writing Tell-All About Her Shocking Suicide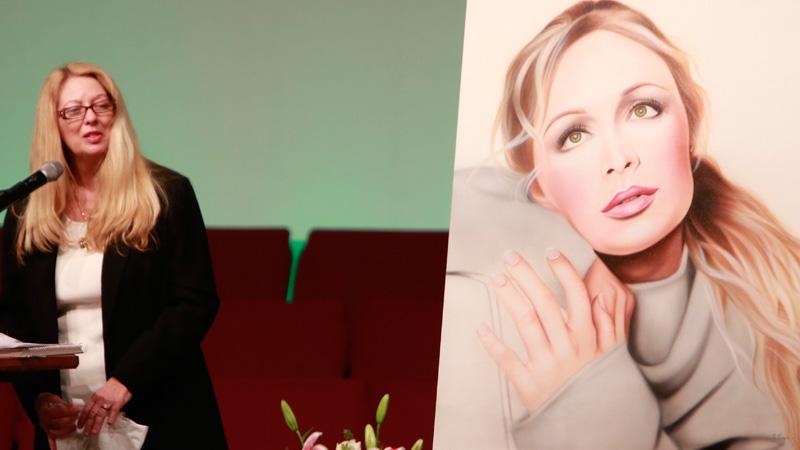 The mystery behind what really happened in the Arkansas cabin where Mindy McCready tragically took her own life nearly two years ago may soon have some answers. Although authorities deemed her death a suicide, the troubled country star's mother hopes to shed some light on the events leading up to that fateful day in a new book she's writing, RadarOnline.com has learned exclusively.
"I got into this place where it was hurting too much to talk about it," Gayle Inge told Radar. "It's written to expose what happened in Arkansas. I feel like laws need to be changed."
Article continues below advertisement
After a troubled life, McCready committed suicide on February 17, 2013. But her mother says she did everything in her power to stop it from happening.
"I wrote letters to the state in Florida before everything happened, saying you can't allow Mindy to be in a home with guns. She was a felon. She had drug and alcohol problems. They knew she had guns in house and I told them and it was illegal," continued Inge."
"And Arkansas came together to protect themselves in the wake of two funerals. They still had arrogance to act like they did nothing wrong."
The 37-year-old blonde beauty, whose reality stardom and battle with addiction overshadowed her music career, was found dead of what investigators concluded was a self-inflicted gunshot wound on the front porch of her Heber Springs home.
In a bizarre twist, it was also the same location where just one month earlier, her boyfriend and the father of her young son Zayne — record producer David Wilson — had also reportedly shot himself.
Article continues below advertisement
Inge says people will be "surprised" by the contents of the book — which is still in the beginning stages — and especially by McCready's last words, which she plans to reveal.
"She sent a text to her cousin and she said 'I'm dead,'" Inge recounted. "She would have sent it to me, but my phone was turned off."
"I communicated with Mindy until the moment David died to 3 a.m. the day she died," she added, claiming to have more than 20 hours of recorded audio communication with her daughter.
"Our last conversation, she said she was coming to Florida and she's going to get her kids back," Inge claimed.
According to reports, in the days after her untimely passing, McCready received an email from the Arkansas Division of Children and Family Services that included a proposed court order allowing her mother to take care of her two children in Florida.
But despite McCready's high hopes in her final phone call with her mom, she still wasn't herself, Inge said.
Article continues below advertisement
"Mindy was completely out of control. She was not in her right mind. She was depressed, she was drinking," Inge revealed. "The things she was saying… you'll be surprised in the book the types and shadows that were all around us when the incident to place. It's almost like this was going to happen.
"There was no stopping Mindy. I truly believe that. It was a suicide," she said, adding, "I know she couldn't have done it sober."
"She talked about the end of the world and what was going to happen to Florida in April. She had all this built up in her mind," continued Inge, claiming McCready's father Tim McCready and his wife played a part in her frantic behavior. "They had stored up food and they had a bomb shelter and all kinds of artillery and gallons of gasoline. She just had all this stuff in her mind."
Just weeks after Wilson's sudden death, not only did Mindy's ex-husband Billy McKnight file motions in family court expressing concern over her ability to properly take care of their son Zander, but her father even filed a petition to have her committed for mental health and substance abuse evaluations, which may have sent her over the edge, according to her mom.
Article continues below advertisement
"She felt like her father betrayed her," said Inge. "Her father and stepmother tried to have her put in a facility and when they did that they took the kids, so when she came home there was nothing to come home to. So she was hopeless."
And deadly weapons were accessible for the Celebrity Rehab star to take drastic measures to end her pain and suffering.
"Arkansas allowed her to be in a home with guns. There's so much injustice there," she said, including the little help she received from local authorities, who Gayle claims found an audio message from Mindy on her cell phone after her body was discovered.
"Mindy left a 28-minute phone conversation and I never heard it. But when I asked police they didn't know what I was talking about," said Inge.
Although McCready and her mother had a tumultuous relationship, much of which was played out either in the press or a courtroom over custody of her children, Inge says she tried desperately to help her daughter over the years.
"Mindy and I were closer than what people thought we were," she said. "Even though we looked like enemies, I think I'll give enough information to have that be understandable."
"I feel like when we hide something it becomes a stronghold in our life and the problem was not going to go away and she did a lot to hide her problems."
Since McCready's death, Inge and her husband decided to sell their business and practice ministry full-time.
"I will tell the story even though it hurts me. It's one of the worst things to think about when you're going to bed at night," Inge said. "The story I'm telling is a travesty of justice. Mindy was precious and amazing. It wasn't really her. I don't call it grieving. I love her."