Sorry World! Bratty Bieber Says 'Hard' Life Motivated His Recent Bad Behavior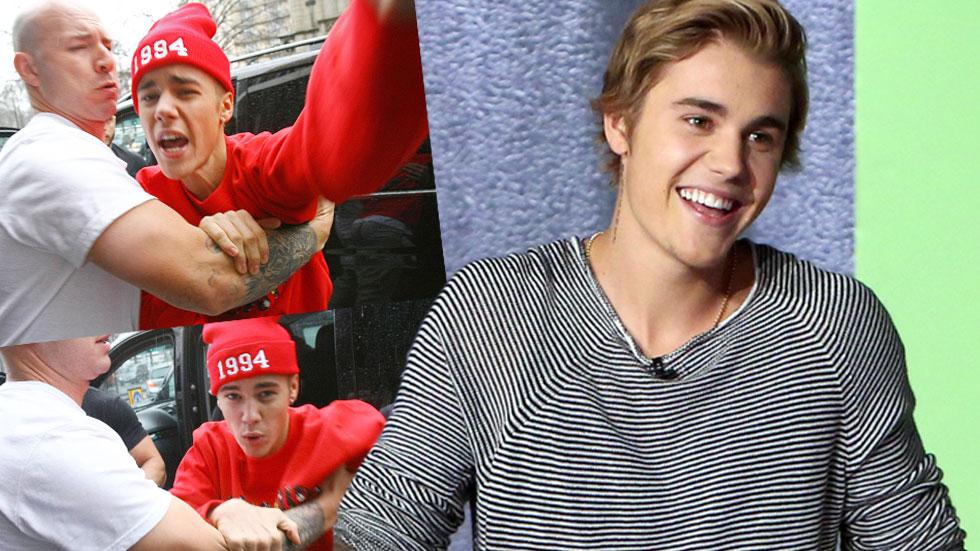 Justin Bieber, trying to make up for his bratty past, says that his "hard" life in show business caused him to act "arrogant" and "conceited" over the past "year and a half."
The 20-year-old singer Wednesday posted an apology video following an appearance on The Ellen DeGeneres Show, his first talk show chat in awhile. In the clip, Bieber admitted he "was afraid of what people are thinking" about him after years of bratty, bad boy antics that had effectively transformed his image from the fresh-faced Canadian teen that burst on the scene with the smash hit "Baby" six years ago.
Article continues below advertisement
Need a refresher?
There was fighting, egging a neighbors home, flagrantly breaking the law, engaging in racist humor, acting holier than thou, a number of incidents in which he peed in seemingly everything but a toilet, and more.
According to the Biebs, he was acting out due to the life he's lived growing up in the public eye as an international pop star, as "just being young and growing up in this business is hard.
"I'm not who I was pretending to be. Why I say pretending is often, we pretend to be something we're not as a cover up of what we're truly feeling inside. And there were a lot of feelings going on in there."
Watch the video on RadarOnline.com
The singer said he "felt people were judging" him, and his bratty behavior was a response to the pressure of the Hollywood spotlight. He said the Ellen appearance and video clip was to show "people to know how much I care, how much I care about people, and how I'm not that person to say 'I don't give a f***.'"
Bieber called himself "a person who genuinely cares," and vowed that while "what's happened in the past has happened," he's going to be a good boy in the future.
"I just want to make the best impression on people and be kind and loving and gentle and soft," he said. "And although people can call me a 'softy,' that's how my mom raised me."
Readers, your thoughts: Does Bieber deserve a second chance?