Is He Potty Trained? Justin Bieber Peed In His Jail Cell After Arrest, Making For His THIRD Urine-Related Incident In 7 Months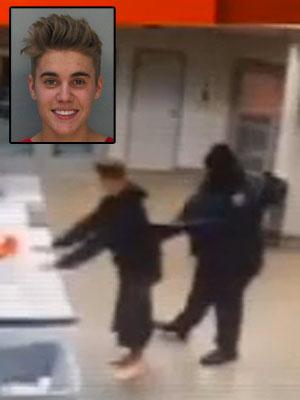 Justin Bieber, while in custody following his arrest Jan. 23 in Miami, urinated in his jail cell, capping off a long night in which he's accused of pot-smoking, pill-popping and drag racing.
The singer's legal team is reportedly irked after video of his pat down was made public last week, and pulling out all the stops to see to it no further footage leaks online, pardon the pun, as the Canadian crooner is reportedly caught on tape relieving himself in the very cell he'd been locked up in.
Article continues below advertisement
In the full video surveillance clip, according to online reports, the embattled pop star is seen stumbling around in his cell, eventually taking out his penis and urinating on the floor.
This latest tidbit marks the THIRD pee-related caper the 19-year-old has been linked to in seven months: Last July, he made waves relieving himself into a mop bucket at a New York restaurant, while in last month, the shameless singer, in broad daylight, carved his initials into the snow-covered ground -- through his kidneys -- while on a pit stop in Snowmass, Col.
For all the latest developments surrounding Bieber, keep it right here on Radar.