Exclusive
Sheriff Department 'Furious' Pop Brat Justin Bieber Will Only Be Charged With Misdemeanor Vandalism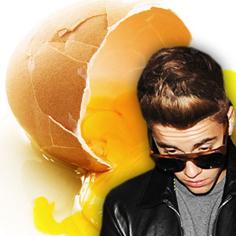 The Los Angeles County Sheriff's Department is said to be furious that Justin Bieber will only be charged with misdemeanor vandalism charges in connection with the alleged egging incident of his neighbor, RadarOnline.com has exclusively learned.
Detectives investigating the egging incident are "absolutely furious" with the L.A. District Attorney for failure to even consider filing felony vandalism charge against Bieber, 20, a source told RadarOnline.com.
Article continues below advertisement
"He caused $20,000 in damage and there is just no denying that," one law enforcement source, who asked not to be identified, said.
"It sends the wrong the message to the community that celebrities are treated differently. This case should be filed against Justin as a felony, period."
In early January, Bieber's neighbor, Jeffrey Schwartz, summoned L.A. County Sheriff authorities to his Calabasas, Calif., neighborhood, claiming he saw the singer pitching eggs at his front door.
Article continues below advertisement
"There just isn't enough compelling evidence to file a felony vandalism charge against Justin," another insider previously explained to RadarOnline.com.
"Many feel the Los Angeles County Sheriff's Department/Lost Hills Station has been extremely over-zealous in their investigation involving Justin, such as sending over a dozen squad cars to execute a search warrant at his house, and issuing press releases when the investigation was handed over to the D.A. It's just not done to the average guy."