What A Dope! Justin Bieber Accused Of Verbally Abusing Flight Attendant, Pilots Forced To Wear Oxygen Masks To Avoid Inhaling Pot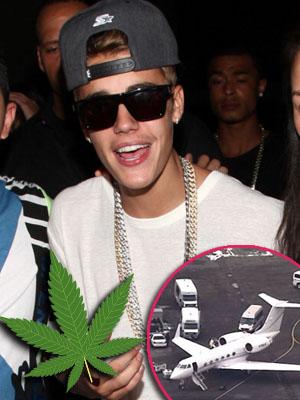 Prior to Justin Bieber's jet being held at an airport in New Jersey on Friday on suspicion that it was carrying marijuana, the pilots and flight attendants were forced to deal with the pint-sized pop brat on what's been dubbed the "pot plane."
According to an official report, the troubled teen singer and his entourage smoked so much marijuana on the flight between Canada and New Jersey that the pilots were forced to wear oxygen masks.
Article continues below advertisement
They wore the masks, so they wouldn't risk inhaling marijuana and failing any subsequent drug test, which would put their licenses at risk.
"The captain of the flight stated that he warned the passengers, including Bieber, on several occasions to stop smoking marijuana," the official report of the incident, obtained by NBC News, said.
In addition, Bieber, 19, his father Jeremy, 38 have been accused of abusing a flight attendant on a private jet until she was forced to hide in the cockpit -- refusing to work for him again.
"The captain also stated he needed to request that the passengers stop their harassing behavior toward the flight attendant and after several warnings asked the flight attendant to stay with him near the cockpit to avoid any further abuse."
"The flight attendant stated the passengers, including Bieber and his father, Jeremy Bieber," stated the report, "were extremely abusive verbally and she would not work another flight with them."
As RadarOnline.com previously reported, when Bieber's flight landed Friday, drug-sniffing dogs searched the vessel for possible presence of drugs.
Authorities then boarded the jet, which multiple sources said reeked of marijuana. However, no unsmoked weed was found during the search.
No members of the flight crew were willing to file charges against their passengers, so Bieber, his father and his friends were allowed to go on their way.