Exclusive
What Deflategate? Pats Coach Bill Belichick To Testify About Secret Aaron Hernandez Confessions — Why Sources Say He 'Feared For His Life'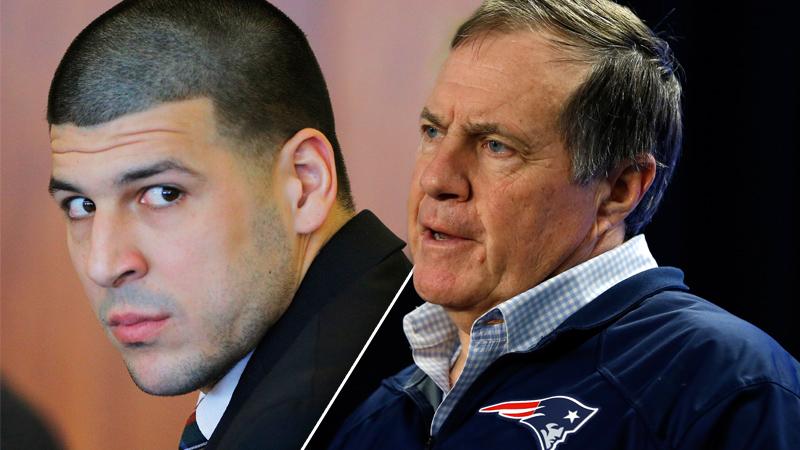 The hits keep on coming for New England Patriots head coach Bill Belichick. As Deflategate fall-out continues, RadarOnline.com has learned that he is expected to be called as a key witness in former tight end Aaron Hernandez's murder trial — against his will.
Prosecutors hope Belichick will be able to establish the mindset of the disgraced athlete in the months before the murder of semi-pro player Odin Lloyd. Lloyd had been dating the sister of Hernandez's fiancée and reportedly the two men had a falling out. On June 17, 2013, Hernandez allegedly took Lloyd to a remote industrial park where he and two other men, Carlos Ortiz and Ernest Wallace, killed him.
Article continues below advertisement
Listed on the prosecutors' witness list, along with Patriots owner, Robert Kraft, Belichick "has been told he should expect to be called to testify," an insider told Radar. "He was interviewed after the murder occurred and prosecutors know it's a big gamble to call the popular head coach. But Aaron did confide to his coach during the off season that he feared for his life, because he was attempting to sever ties with some rather unsavory people in his life."
"Bill told Aaron it would be smart for him to lay low and not go out to nightclubs," said the source. "With no clear motive for the murder of Odin , the district attorney will use the coach's testimony to show jurors how paranoid Hernandez was in the months leading up to the murder."
Meanwhile, the source revealed, "The last thing Coach Belichick wants to do is testify in a murder trial, especially since it's being televised. He will comply and will do anything possible to get it over with as quickly as possible."
Article continues below advertisement
The wild card for the defense attorneys, on the other hand, is Hernandez's fiancée, Shayanna Jenkins. Prosecutors submitted a petition for immunity after a bid to get her to testify, but the judge hasn't signed off on the immunity deal yet. Jenkins was previously indicted on perjury charges, for allegedly giving false testimony to the grand jury in this case.
Prosecutors believe Jenkins got rid of the gun allegedly used in the murder, as it was captured on surveillance video in Hernandez's possession at his mansion shortly after the crime.
A jury of 18 people — 13 women and five men — were formally sworn in on Monday, but the proceedings were delayed because of the looming snow storm.
Hernandez, 25, also faces another trial for allegedly killing two men after one accidentally spilled a drink on him in a nightclub in 2012.
Judge E. Susan Garsh has banned any sports logos from the Fall River Justice Center while the trial is under way.
Meanwhile Hernandez's former team is heading to the Super Bowl this weekend.