Exclusive
Aaron Hernandez Jailhouse Letter: 'My Biggest Fear Of All Is My Little Girl Won't Know Daddy!'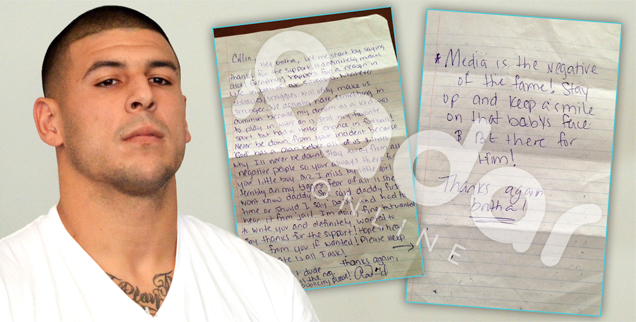 Suspected murderer Aaron Hernandez wrote a jailhouse letter to a fan while imprisoned in a Massachusetts facility -- bemoaning how he was forced to hear his nine-month-old daughter call him "Da Da" for the first time from behind bars.
"I miss my little girl terribly an (sic) my biggest fear of all is she won't daddy," the former New England Patriots star, 23, complained to pen pal Collin Imm, who has supplied a copy of the letter exclusively to RadarOnline.com.
Article continues below advertisement
"She said daddy (for the) first time or should I say "Da Da" and (I) had to hear it from jail."
GALLERY: Read Murder Suspect Aaron Hernandez's Jailhouse Letter Here
The former NFL tight end -- accused of killing friend Odin Lloyd -- has one child, Avielle Janelle, with fiancée Shayanna Jenkins.
Lloyd's bullet-riddled body was found in a Massachusetts industrial park on June 17, Father's Day, about a mile from Hernandez's Massachusetts home. He'd been was shot five times.
In Hernandez's two page missive to the fan, sent from the Bristol County House of Correction in North Dartmouth, Mass., the ex-NFL star maintained his innocence.
"I'm a great dude," Hernandez told Imm. "Don't believe all the negative publicity."
He went on to describe his incarceration as "God's plan" and even blamed the media!
"Media is the negative of the fame!" he penned in response to Imm, who told RadarOnline.com that he had sent a letter to Hernandez first.
Article continues below advertisement
"Whatever obstacles/struggles will only make us stronger.
"Never be down from your incident because 'God' has a plan before all of us and that's why I'll never be down.
"Stay away from all negative people so your (sic) aways there for your little boy."
He added, "I'm doing fine but wanted to write you and definitely wanted to say thanks for the support! Hope to hear back from you if wanted!"
Hernandez's letter was postmarked July 17 and from Inmate No. 174594 - his jail identification number.
He signed it off: "Thanks again brotha!"
Hernandez has pleaded not guilty to murder and is being held without bail.
Though his fiancé Jenkins has not been charged in connection with the execution-style slaying of Llyod, authorities have alleged that she "made overt attempts to hide evidence, render assistance for suspect to elude law enforcement and to hinder and mislead" the investigation.