Did He Play Pro Football AFTER Killing 2 Men? Aaron Hernandez Linked To 2 Older Killings: Report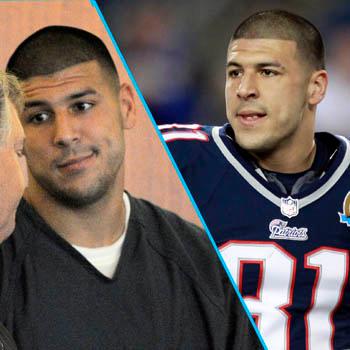 It is a question with huge potential ramifications: Did Aaron Hernandez play pro football AFTER being involved in the shooting deaths of two men?
"Prosecutors have begun making the case to a Suffolk County grand jury that former New England Patriot Aaron Hernandez should be charged in the shooting death of two men on a South End street last July, according to two law enforcement officials briefed on the investigation," says a hard-hitting new report in the Boston Globe .
Article continues below advertisement
The former tight end for the New England Patriots is charged with first-degree murder in the shooting death of Odin Lloyd, 27.
And while he is being held without bail, Hernandez's problems are growing.
According to the Boston Globe:
"The case against Hernandez appears to be strengthening," one of the officials said. They spoke on condition of anonymity because they are not authorized to discuss the case publicly.
The proceedings are conducted behind closed doors so details of the case against Hernandez are unknown. But the very fact that the case has gone to a grand jury indicates that the investigation of the killing of two Cape Verdean immigrants is now more narrowly focused on Hernandez.'
Hernandez has pleaded not guilty to all charges in Lloyd's death and has not commented on the drive-by shooting death of Safiro Furtado and Daniel Abreu on July 16, 2012.
If it turns out Hernandez was involved, the National Football League will face the reality that he played the 2012 season AFTER any possible involvement in the shooting deaths.
Public relations crisis?
The NFL has survived players arrested, jailed, put away for violent crimes, but Hernandez could create never-before-seen problems for the league.