The Case Against Aaron Hernandez: Minute-By-Minute Account Of Murder Revealed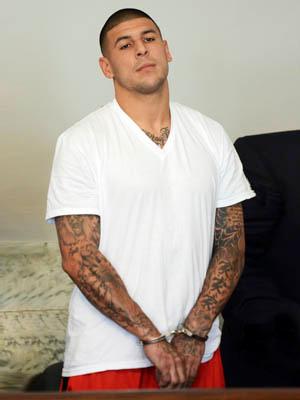 Pro football star Aaron Hernandez texted his pal Odin Lloyd at approximately 9:05 p.m on June 16 and made it clear he wanted to get together. He made plans to pick up Lloyd and at 9:35 p.m. texted Ernest Wallace, an associate, telling him, "Get u r up here."
Wallace and Carlos Ortiz drove and met Hernandez at his home. At 12:22 a.m. on June 17, Lloyd, 27, texted Hernandez, 23, and asked, "We still on."
Article continues below advertisement
These are the minute-by-minute details leading up to the murder of Lloyd and putting one of pro football's rising stars behind bars, charged with first-degree murder just months after his team had given him a $40 million contract.
The New England Patriots star gave no hint to Lloyd that anything was wrong after that early June 17 text. Instead he met up with Ortiz and Wallace and the three men drove a rented Nissan Altima and picked up Lloyd at his home in Boston in the early morning hours and headed back toward Hernandez's home.
At some point Hernandez and Lloyd shook hands, putting behind them a disagreement about people Lloyd recently spoke to – people Hernandez didn't like.
But at 3:23 a.m. Lloyd sent his final text, to his sister, letting her know that he was with Hernandez. The text indicated he was nervous.
Hernandez and pals drove Lloyd to an isolated industrial park, extremely close to Aaron's Massachusetts home. All of the men except for Ortiz got out of the car to urinate.
Article continues below advertisement
Ortiz, sitting alone in the car, heard gunshots in the dead of night at some point before 3:27 a.m. Then Hernandez and Wallace returned without Lloyd and got back in the car. They drove away.
Lloyd was dead in the industrial park, shot "execution style" by a .45 caliber Glock handgun.
Later that day, Wallace told Ortiz that Hernandez admitted shooting and killing Lloyd.
That's the account of how police and prosecutors believe Odin Lloyd was murdered, pieced together from recently released official documents in the first-degree murder case against Hernandez and related charges against Ortiz and Wallace.
Cell phones, surveillance cameras, text messages and other material were also used to construct the timeline of murder that prosecutors hope to use to put the former NFL star behind bars for life, without the chance of parole.
Ortiz, also being held without bail, told police that Hernandez confessed to Wallace. He also said because it was dark he could not see who fired the shots but that the three men returned to Hernandez's home and the NFL player asked him to get a small gun from under one of the seats. Ortiz says he handed it to Hernandez and they went into the home.
MORE ON:
Celebrity Justice
Article continues below advertisement
Surveillance video shows that Hernandez was driving when the three men pulled up to his home in the early morning hours of June 17. They slept for a while, returned a rental car later and Ortiz and Wallace then drove alone to Bristol, Conn.
On that drive, Ortiz alleges, Wallace told him that Hernandez confessed to murdering Lloyd, who was found with car keys and $64.75 in his pockets.
Ortiz, 27, knew Hernandez through Aaron's older brother D.J. His attorney says he doesn't have money to make bail and legal experts speculate it is likely he will be offered some type of deal to testify against Hernandez.
Wallace's relationship with Hernandez is still unknown. But police are looking at Hernandez in connection to the murder of two people in a 2012 drive-by shooting, the Boston Globe reported. Hernandez was concerned Lloyd had information about that situation, the paper said.
And while Hernandez's fiancée told police that Lloyd was a marijuana dealer, no one else has backed up that account, according to various reports.
Article continues below advertisement
Hernandez, as RadarOnline.com reported earlier, did not ask police who died when they told him on the night of June 17 they were conducting a death investigation. Instead he went in his house and slammed the door on them.
Meanwhile one of the items removed from the ex-player's home was a piece of a mattress that was tested for gunshot residue. Results of the test are unknown.
And perhaps the biggest hurdle remaining for authorities in their prosecution of Hernandez is another unknown: where is the murder weapon?
It still has not been found.