What's Wrong With The NFL? 29 Players Arrested Since The Super Bowl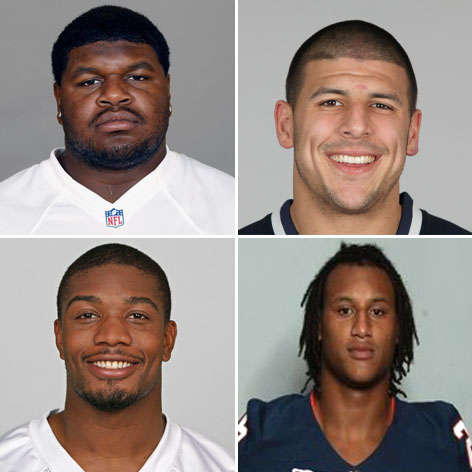 Another day, another arrest. The NFL is building its very own hall of shame.
Joe Lefeged of the Indianapolis Colts was arrested Saturday, literally chased down by cops and arrested on suspicion of multiple gun-related crimes. He'll be arraigned this week.
That makes a stunning 29 arrests since the Feb. 3 Super Bowl!
As RadarOnline.com has been reporting, Aaron Hernandez leads the pack with the most high-profile and serious arrest. The New England Patriots star has been charged with murder and is also being investigated in connection with a separate double homicide.
Article continues below advertisement
Also last week, Josh Brent was arrested and jailed after failing a court-ordered drug test. The Dallas Cowboy player was out on bond on an intoxicated manslaughter charge.
And Ausar Walcott of the Cleveland Browns was arrested (on the same day as Hernandez) for attempted murder of a man outside of a New Jersey club.
According to Business Insider that means 29 NFL players arrested in less than five months.
Some of the busts were for less serious crimes such as disorderly conduct and public intoxication. Other charges include DUI, assault and domestic violence.
"Many of these kids come out of environments where it's commonplace for a 14 or 15-year-old to be packing," Bob Costas pointed out last December in discussing how guns are glorified by many NFL players.
Others don't see the problem as all that serious.
"It is still a relatively small percent of all players," said Sports Illustrated legal analyst Michael McCann, who points out that not all the arrests have yet been resolved with convictions.
At the very least, though, the NFL has a very serious image problem, say most other analysts, as they wonder what the league has to do to fix the problem and how long before fans start turning away.
To see what other NFL stars have been arrested, click HERE.