NFL Star Aaron Hernandez Charged With Murder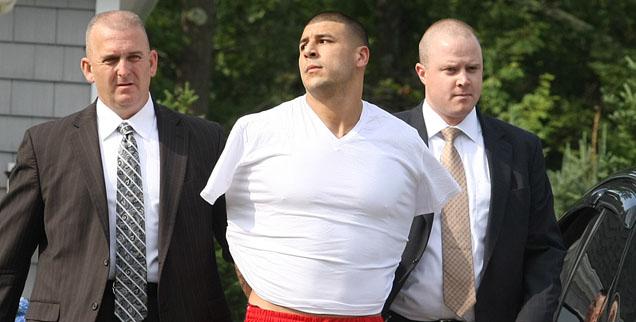 NFL star Aaron Hernandez was charged with first-degree murder Wednesday in a shocking turn of events, just hours after police arrested him at his home.
Hernandez is accusing of shooting and killing his friend, Odin Lloyd, a semi-pro football player who was dating the sister of the player's fiancée.
The charges against Hernandez, 23, were read at his arraignment. Wednesday afternoon. He was denied bail and five other gun-related charges were filed against him.
Article continues below advertisement
Hernandez was cut by the New England Patriots less than two hours after his arrest Wednesday, which occurred at 8:47 am at his North Attleborough, Mass. home.
Prosecutors outlined a timeline and evidence during the arraignment. Lloyd, 27, was shot and his body found on June 17 near Hernandez's house. They revealed their case was built in part by cell phone records and surveillance video from the area.
According to prosecutors, the chain of events leading to murder began June 14 when the two men were at Club Rumor. Hernandez was allegedly upset that Lloyd was talking to people he didn't like.
Prosecutors say that Hernandez and two friends picked up Lloyd at his house at 2:30 am on June 17. Assistant District Attorney Bill McCauley said surveillance video from the player's home shows Hernandez leaving with a gun. The prosecutor also said that Hernandez told someone at the house he was "upset" and could not trust anyone anymore.
Article continues below advertisement
After picking up Lloyd, Hernandez allegedly told him he was upset about the nightclub incident. Lloyd was nervous and texted his sister as late as 3:22 a.m. with this message, "Did you see who I am with?" She asked who and he replied "NFL" and then, "Just so you know."
Prosecutors says that people near the industrial park where Lloyd's body was found heard gunshots between 3:23 a.m. and 3:27 a.m. They Lloyed was shot several times with a .45 caliber semi-automatic gun.
Shell casings were found at the murder scene near Lloyd's feet.
Information from cell phone towers was also used to pinpoint Hernandez's and Lloyd's location.
Lloyd's body was found in an industrial park. Boston's Fox News TV affiliate reported that surveillance video shows Hernandez walked into his home around 3:30 am on June 17.
Hernandez apparently destroyed surveillance video from his home.
After his arraignment, with Lloyd's family members in court, Hernandez was transported to the Bristol County House of Correction.
Article continues below advertisement
His attorney argued: "The defendant has never been accused of a violent crime, he is a resident of North Attleborough, has been a resident of North Attleborough, lives in domestic partnership in that home with his small baby and his girlfriend, his fiancée, and deserves to be home on the conditions of bail. There is no risk of flight."
But the judge disagreed and ordered the former pro football player held without bail.
The New England Patriots released this statement after cutting Hernandez Wednesday morning:
"A young man was murdered last week and we extend our sympathies to the family and friends who mourn his loss," the statement said. "Words cannot express the disappointment we feel knowing that one of our players was arrested as a result of this investigation.
"We realize that law enforcement investigations into this matter are ongoing. We support their efforts and respect the process. At this time, we believe this transaction is simply the right thing to do."
Hernandez was a star at the University of Florida and played for the Patriots for three seasons.