Aaron Hernandez Orders Fiancée Not To Cooperate With Cops! Will They Try To Wed Behind Bars?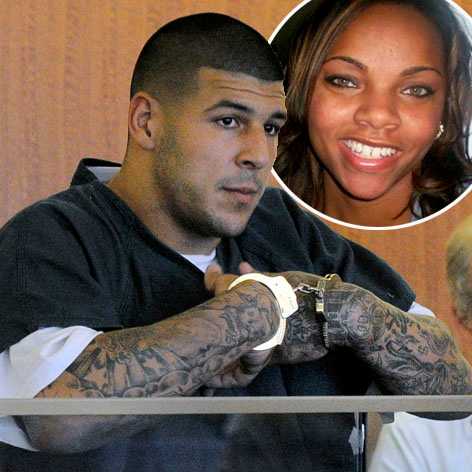 Charged with murder and under investigation for a separate double homicide, Aaron Hernandez is behind bars in Mass., and damning evidence is reportedly mounting against him.
But one person -- his fiancée and baby mama, Shayanna Jenkins, isn't talking to cops and concerns have been voiced that they'll attempt to make that arrangement permanent.
Jenkins, who has a eight-month-old daughter with the former New England Patriots star, was initially talking to cops.
Article continues below advertisement
Her younger sister, Shaneah, had been dating Odin Lloyd, the semi-pro ball player whose bullet-ridden body was found just a mile from Hernandez's mansion so there's the possibility she has information that would be of interest to prosecutors.
Shayanna's cooperation ended though, the prosecutor in the case told the judge at a hearing this week, when she received a call from Hernandez.
Investigators "did speak to her but the conversation ended when she was informed not to speak to them," Bristol County District Attorney spokeswoman Yasmina Serdarevic told The Daily Beast.
"They did speak to her until she got the call."
Now -- especially after Jenkins was seen weeping in the courtroom when Hernandez was denied bail -- concerns have been raised that the couple will try to wed to give her ongoing protection from having to take the stand against the accused murderer.
Hernandez hasn't yet made such a request but if he does, he'll have his work cut out for him with Sheriff Thomas Hodgson.
"We don't do weddings or baptisms or anything like that," the top cop said. "I have had a policy like that since I started as sheriff 16 years ago. It is not something we feel we need to reorganize our schedules for."