Smoking Gun: Surveillance Photo Released Showing Aaron Hernandez Holding Firearm Minutes After Pal Shot Dead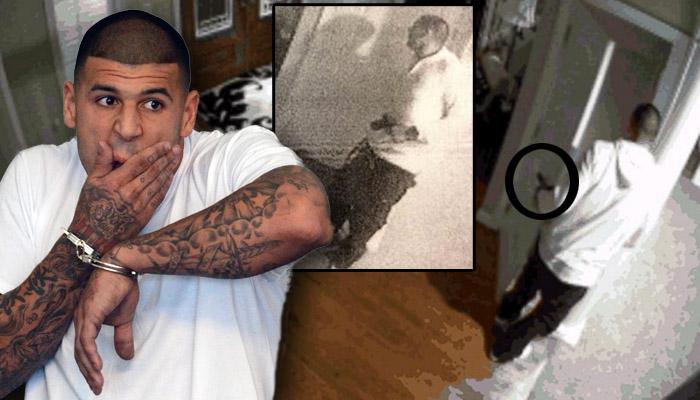 Moments after the shooting death of his friend, Aaron Hernandez is seen holding what is described by cops as a large caliber gun on footage from his own surveillance system release by authorities on Thursday.
The footage is more bad news for Hernandez, charged with murdering Odin Lloyd, and held without bail.
The former NFL star for the New England Patriots is clearly seen moving through his home with an object in his hands.
Article continues below advertisement
That object is "identified by investigators being consistent with a firearm," according to a search warrant affidavit released Thursday.
"Aaron Hernadez is observed on the surveillance video moving the item believed to be a firearm between his hands as he passes through the living room," the affidavit said.
Lloyd was killed with a .45 caliber handgun. A shell of the same caliber was found in a car rented by Hernandez.
Hernandez had 14 surveillance cameras at his Massachusetts home. He and two other men picked up Lloyd on June 16. One of those men, Carlos Ortiz, says Hernandez confessed to the other man charged in Llody's death, Ernest Wallace.
Various surveillance cameras narrow the timeline on Lloyd's murder to sometime between 3:23 am and 3:33 am.
The footage released today proves that prosecutors have strong circumstantial evidence against Hernandez.
The murder weapon, however, has not been found.