Unnecessary Roughness! Aaron Hernandez Gets Into Violent Scrap With Fellow Prisoner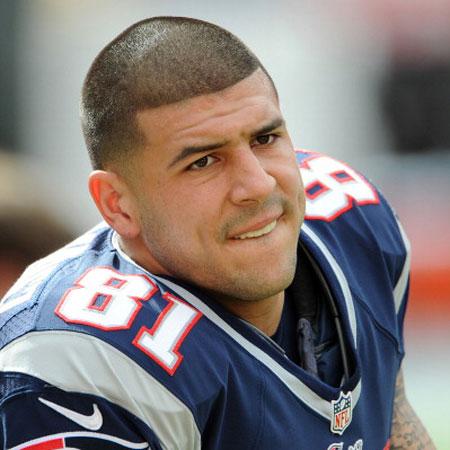 Aaron Hernandez was involved in a scrum with a fellow prison inmate at Tuesday, according to Bristol County Sheriff Thomas Hodgson.
Hodgson said that an investigation is underway at Bristol County House of Corrections to suss out what happened involving the Pro Bowler-turned-accused murderer, and if he or the other inmate involved should face charges in connection with it. Sheriff's spokesman Bernie Sullivan said neither man was seriously hurt in the skirmish.
Article continues below advertisement
According to online reports, the other inmate had been relentlessly bullying Hernandez (who is usually kept in solitary confinement) since the football star arrived at the facility last June. When the mercurial pass-catcher caught his tormenter in a hallway, he let loose on him, and got the better end of the brawl.
As we previously reported, the former New England Patriots tight end is charged with first degree murder in the Jun. 18, 2013 execution-style killing of Odin Lloyd, a 27-year-old semi-pro football player. Lloyd, who played semi-pro football for the Boston Bandits, was associated with Hernandez through his girlfriend, whose sister is Hernandez's baby mama.