Pro Football Star Aaron Hernandez Arrested In Murder Investigation -- New England Patriots Release Him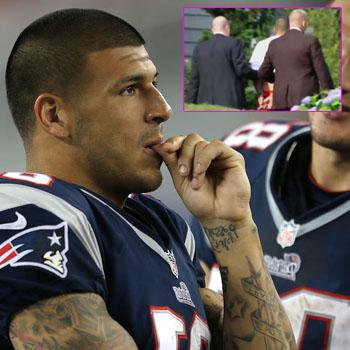 UPDATE: The NFL has released a statement saying, "The involvement of an NFL player in a case of this nature is deeply troubling." Meanwhile, the Boston Globe reported that police have surveillance video showing Aaron Hernandez with Odin Lloyd hours before the murder.
Pro football star Aaron Hernandez was arrested Wednesday morning in connection with a murder investigation and led out of his house in handcuffs, RadarOnline is reporting.
Article continues below advertisement
The 23-year-old New England Patriots tight end is suspected of destroying evidence in the investigation that centers on the murder of Odin Lloyd, 27, a former semi-pro football player who was seen with Hernandez in the days before his death and was reportedly dating the sister of Hernandez's fiancée.
Authorities did not release what Hernandez will be charged with, but said that information will be revealed at his arraignment on Wednesday. Massachusetts State Police said in a statement. "There is no set time," for the arraignment. "He will be processed at the police station and then brought to the court."
As the stunning developments unfolded, less than two hours after Hernandez was arrested at his North Attlelborough, Mass. home, the New England Patriots announced they had dropped the star tight end. The team first made the announcement via their Twitter account and then released this statement:
"A young man was murdered last week and we extend our sympathies to the family and friends who mourn his loss. Words cannot express the disappointment we feel knowing that one of our players was arrested as a result of this investigation. We realize that law enforcement investigations into this matter are ongoing. We support their efforts and respect the process. At this time, we believe this transaction is simply the right thing to do."
Article continues below advertisement
Reports have claimed Hernandez destroyed evidence in the case, including security cameras in his house. Police have searched his home in recent days, removing several bags.
Lloyd was found dead from at least one gunshot to his head in an industrial park on June 17. Family members claim Lloyd was dating a woman whose sister is Hernandez fiancee.
The former Florida Gator was clad in a white t-shirt and red shorts when police led him out of his home at approximately 8:45 am ET.
Lloyd was shot multiple times, according to one report.
"Surveillance video showed Hernandez walking into his home with two others around 3:30 a.m. on June 17," reported myfoxboston.com.
The site also reported a source claims to have seen Hernandez with Lloyd "within 24 hours" of Lloyd's body being discovered.
Story developing….