Aaron Hernandez Pleads 'Not Guilty' To Murder Charges In Death Of Odin Lloyd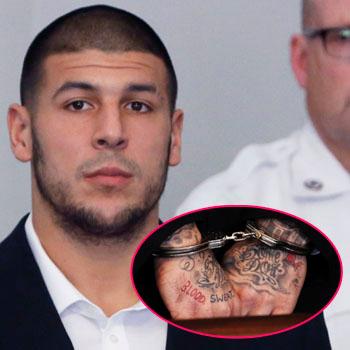 Aaron Hernandez appeared in court on Friday morning and pleaded not guilty to the first-degree murder charge of killing his friend, Odin Lloyd.
Wearing a blue blazer, white shirt and handcuffs, Hernandez entered the plea for his indictment and was returned to jail where he is being held without bail, with his attorneys reserving the right to request bail at a later date.
He is accused of the June 18, 2013 execution style murder of Odin, 27, who was dating the sister of Hernandez's girlfriend.
Article continues below advertisement
Hernandez's next court date is October 9 for a pre-trial conference.
"The Gangster In The Huddle," a new article from Rolling Stone, alleges a series of grim details about the NFL standout-turned-accused murderer, including details about his drug abuse — and how it impacted him mentally.
The former New England Patriots tight end, according to the report, frequently abused the drug phencyclidine, better known as "PCP" or "Angel Dust," and it took a toll on him mentally, pals said.
GALLERY: Read Murder Suspect Aaron Hernandez's Jailhouse Letter Here
He is also in trouble for possibly committing the murder of Lloyd to cover up a double-murder in Boston that occurred nearly a year earlier.
A police source told The Boston Globe that Hernandez owned an SUV that police believe was barreling away from the crime scene where two immigrants from Cape Verde — Daniel Jorge Correia de Abreu, 29, and Safiro Teixeira Furtado, 28 — were felled by gunshots, in a drive-by shooting involving an SUV.
Article continues below advertisement
The football player's vehicle was subsequently retrieved at his uncle's home in Bristol, Conn., the town where Hernandez grew up. In a new revelation in the case, CBS 3 Springfield, quoting law enforcement sources, reported Monday that a .38 caliber Smith and Wesson revolver used in the double-shooting points back to Bristol, as a 19-year-old woman was arrested June after a car crash in Mass.
Police said that upon searching the car driven by Jailene Diaz-Ramos, they came across the weapon and three rounds of ammo. (She arrested in connection with firearms charges and released on bail of $1,000.)
If Hernandez is convicted of the murder of Odin Lloyd he could get life in prison with no chance of parole.