New Details -- And A Crucial Connection -- Uncovered In Aaron Hernandez's Link To 2012 Double-Murder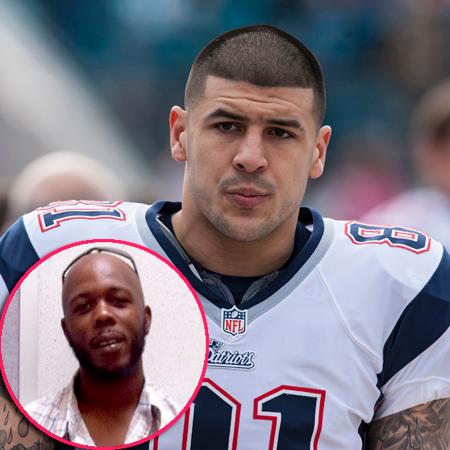 Former New England Patriots tight end Aaron Hernandez might have committed the murder he's accused of, in the death of Odin Lloyd, to cover up a double-murder in Boston that occurred nearly a year earlier.
A police source told The Boston Globe that Hernandez owned an SUV that police believe was barreling away from the crime scene where two immigrants from Cape Verde -- Daniel Jorge Correia de Abreu, 29, and Safiro Teixeira Furtado, 28 -- were felled by gunshots, in a drive-by shooting involving an SUV.
Article continues below advertisement
The football player's vehicle was subsequently retrieved at his uncle's home in Bristol, Conn., the town where Hernandez grew up. In a new revelation in the case, CBS 3 Springfield, quoting law enforcement sources, reported Monday that a .38 caliber Smith and Wesson revolver used in the double-shooting points back to Bristol, as a 19-year-old woman was arrested June after a car crash in Mass.
Police said that upon searching the car driven by Jailene Diaz-Ramos, they came across the weapon and three rounds of ammo. (She arrested in connection with firearms charges and released on bail of $1,000.)
Hernandez hasn't been charged in the dual killing, as the case is currently in the hands of a grand jury. Hernandez has, however, been charged with first degree murder in the June 18, 2013 execution-style killing of the 27-year-old semi-pro football player. Lloyd, who played semi-pro football for the Boston Bandits, was associated with Hernandez through his girlfriend, whose sister is Hernandez's baby mama.
GALLERY: Read Murder Suspect Aaron Hernandez's Jailhouse Letter Here
Hernandez, an All-American at the University of Florida, and 2011 Pro Bowler, was inked to a $40 million, five-year deal by the Pats last year. He was unceremoniously cut by the New England Patriots two hours after his arrest earlier this summer.
If convicted of murder, the 23-year-old, who has pleaded not guilty to the accusations, could get life in prison with no chance of parole.