Aaron Hernandez's Girlfriend Indicted On A Perjury Charge In Murder Case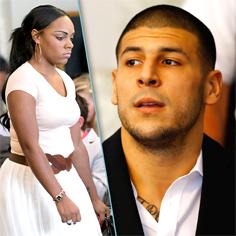 Former New England Patriot star Aaron Hernandez's girlfriend has been indicted on a perjury charge in connection with the murder of his friend, Odin Llyod, RadarOnline.com is reporting.
According to the New York Post, a grand jury indicted Hernandez's girlfriend Shayanna Jenkins on Friday for a single count in relation to the investigation of the killing of Lloyd, as well as his cousin Tanya Singleton on a charge of conspiracy to commit accessory after the fact.
Article continues below advertisement
Llyod was found shot to death in North Attleborough, Mass., on June 17.
A grand jury also indicted Hernandez's associate, Carlos Ortiz, on an accessory to murder charge.
Prosecutors claim Ortiz and Ernest Wallace was with Hernandez the night Lloyd was killed, and Wallace was also indicted on a charge of accessory to murder after the fact. He has pleaded not guilty and been ordered held on $500,000 bail.
Hernandez, 23, plead not guilty to the murder of Lloyd and is being held without bail.
In jailhouse letters exclusively obtained by Radar the former footballer opened up to a fan about how much he would miss his 9-month-old daughter, Avielle.
"I miss my little girl terribly an (sic) my biggest fear of all is she won't daddy," Hernandez complained to pen pal Collin Imm, who supplied a copy of the letter exclusively to Radar.
"She said daddy (for the) first time or should I say 'Da Da' and (I) had to hear it from jail."
Before Jenkins was indicted on Friday, authorities alleged that she "made overt attempts to hide evidence, render assistance for suspect to elude law enforcement and to hinder and mislead" the investigation.