Exclusive
'What Are You Torturing Me For?' Mickey Rooney Begged Wife For Mercy In Secret Recording Amid Elder Abuse Scandal — Listen To The Explosive Audio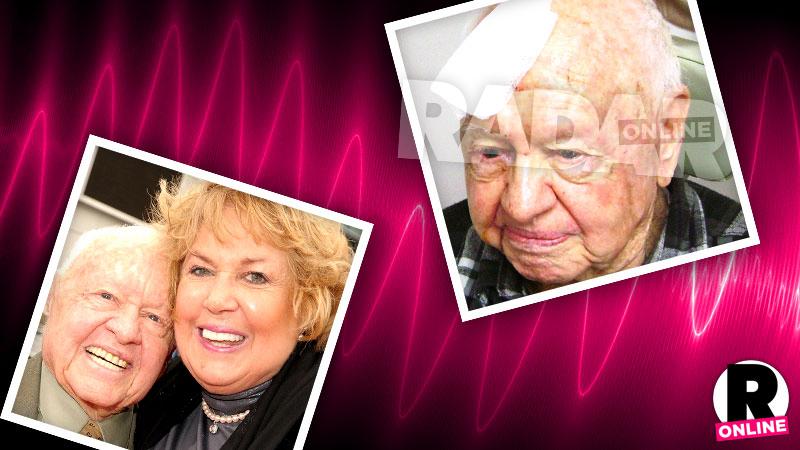 Jaw-dropping photos of bloody injuries aren't the only proof of the horror that Mickey Rooney endured in his last days. In a bombshell world exclusive, RadarOnline.com can reveal a never-before-heard audio recording of the vicious fights between him and his wife, Jan Rooney — and the content is disturbing.
"The Rooneys lived in Westlake Village California in a modest home on a manmade island," an insider told Radar. "They argued regularly and it carried across the lake for everyone to hear." The brutal fights, filled with expletives and cutthroat insults, were "typical daily conversations coming from the Rooney home that could be heard throughout the neighborhood for years," said the source.
Article continues below advertisement
LISTEN To The Explosive Audio — *Warning Graphic Language**
"You lying piece of sh*t!" Jan can be heard screaming at the Hollywood icon in one snippet. She bellows, "You don't have a wife! You treat me like a f***ing dog in the street!"
"Mickey and Jan always argued because the family was split in two," the source explained. "Jan always sided with and wanted to be with stepson Chris Aber and his wife. Mickey always sided with and wanted to be with stepson Mark Rooney and his wife Charlene."
In one exchange caught on tape, Mickey brings up the lawsuit he filed against Aber for elder abuse and fraud. The suit was later settled.
"Let 'em sue him!" Jan taunts. "Let 'em sue his pants off!"
"You don't love me," Mickey laments, before Jan responds with a volley of insults: "You stupid b**tard! You lying son of a b*tch!"
"Mark and Charlene wanna live with you alone!" she yells. "They've got you now! Have fun you little f**ing b**tards!"
Article continues below advertisement
"What's happened to you Jan?" Mickey begs, to which she responds, "You've happened to me. … You don't care about me one f**k!"
In another disturbing incident, Jan can be heard erupting when Mickey didn't sign a fan's autograph to her liking.
"It looks like a f***ing big mess now!" she rages. Helpless, Mickey responds, "I'm sorry. … Stop yelling at me Jan."
And in one heartbreaking moment, the former Hollywood icon can be heard saying plaintively, "What are you torturing me for?"
Mickey and Jan legally separated in June 2012 when he requested to permanently reside with Mark and Charlene Rooney.
After his death this April, Mickey had only $18,000 to his name, but the family squabbled over that meager inheritance. And today, according to an insider, Jan and Chris Aber currently receive Mickey's $8,400 per month pension and social security.
Said the source, "He found out that Jan was to get all of them should anything happen to him. He tried to change it before he died, but was told that nothing could be done about it, and it could not be changed."