Exclusive
Mickey Rooney's Wife Claims She CAN'T Be Cut From His Will — She Owns Half Of It!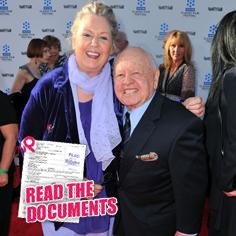 Article continues below advertisement
The court documents filed to the court say state, "The Decendent Mickey Rooney does not have the legal authority to dispose of Objectors 12 of the Community Property. Objector and the Decendent were married for more than 35 years and most (if not all) of the Decendents Estate is Community Property."
Her team of lawyers is also claiming that Augustine has no legal right to distribute the property and won't accept him as the conservator of the Estate until he files his final accounts bill, which is thought to exceed half a million dollars and will come out of Rooney's Estate!
Article continues below advertisement
A family source tells RadarOnline.com they are convinced that is where most of Rooney's money was swallowed up, leaving a measly $18,000 upon his death in March.
You Can Sue For That? The 53 Wackiest Lawsuits
"They're going to expose just how much of Mickey's millions has gone on lawyers fees and the same people who are meant to be protecting him now," the source added.
"Jan and Chris are claiming they have documents which state, that just before Mickey died, he was paid $300,000 for his role in Night of the Museum 3, so where did that money go? As only weeks later, he was dead, owed a bunch of creditors money, and had an estate worth just a few thousand."