'Why Are You With Me?' Dean McDermott Flees Reality TV, Shouts At Tori Spelling In Fiery Finale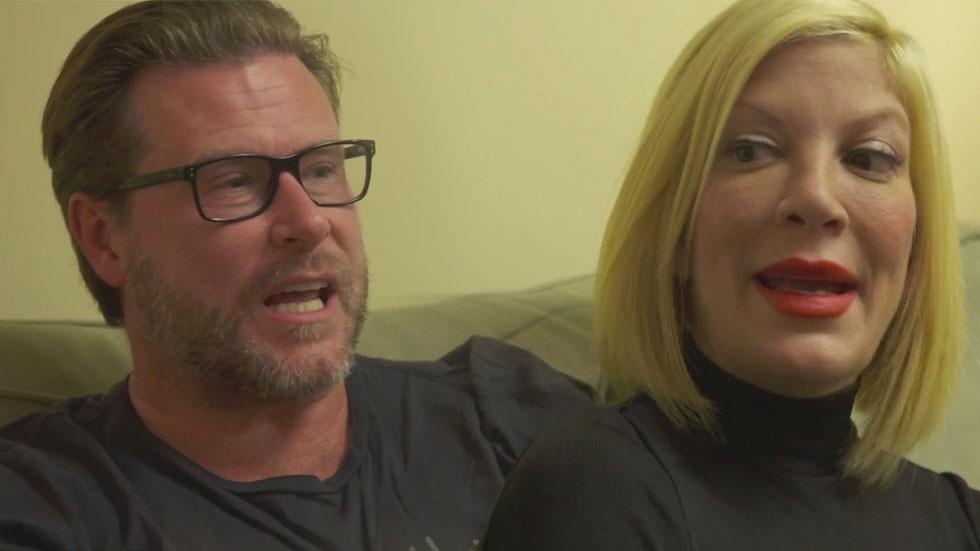 Tori Spelling's reality show True Tori ended with a whimper Tuesday night, as the former Beverly Hills 90210 star stayed with her cheating husband Dean McDermott.
"Everything happens for a reason — things are never going to be perfect," Spelling opined to the cameras during the finale episode. "Now we can just go back to being us."
However, the show's low-key ending followed fireworks that included McDermott quitting reality TV, storming out of therapy, dissing Spelling's parenting style, and admitting he'd cozied up to a female rehab friend — while Spelling was hospitalized, and mourning the death of a pet pig.
Article continues below advertisement
Viewers saw that when Spelling returned from a road trip, she didn't immediately confront McDermott about his trying to hire a woman friend from rehab to babysit their four kids.
Instead, she brought a 5-day-old pig home that she had saved from a slaughterhouse.
McDermott reiterated that he didn't want his rehab friend discussed on camera and took a producer aside to air his grievances about it.
"I'm f*cking tired of this show! It was not supposed to be part of the story. Not cool!" he said about the woman (whose name wasn't divulged on camera).
The actor whined about the show that has dealt with the aftermath of his cheating, "I've sacrificed chunks of my soul, I can't live like this anymore, there's no order.
"She builds up the drama."
He noted that when the kids were with him, it was smooth sailing but when Spelling was around, it was "chaos" — and getting a pig on a whim was an example.
When McDermott was late to couples therapy, Spelling spoke with Dr. Ann Wexler alone and the star told her about the conflict.
Article continues below advertisement
"I think he's ready for your life to be private again," the therapist said.
But Spelling said of True Tori, "It's a good tool for me because it helps my growth."
When McDermott joined them, he hit the roof, saying, "I feel like every move I make is wrong."
Spelling said it was hurtful that he had brought the female friend he'd met in rehab to their home to interview for a babysitting job while she was away.
McDermott shouted, "This is totally f*cked up. If you don't like my choices, why the f*ck are you with me?
"There's hope for Tori and Dean if we don't do the f*cking show. This is not good for us!"
Spelling pointed out that she'd already told McDermott she didn't want his rehab friend to work for them, yet he brought her into their home for an interview anyway.
An enraged McDermott said he thought he was helping – and then stormed out of the therapy session.
Article continues below advertisement
"I love him, but he just doesn't get it," Spelling told Wexler. "What do you do when you have a human being that, they just morally make the wrong decisions?"
Dr. Wexler asked, "Do you think it's possible for him to change?"
"No," Spelling responded.
A producer informed Spelling that McDermott needed space, and then she received a text from her husband saying he felt totally defeated.
Spelling talked to him alone without the cameras and he apologized to her about the babysitter off camera, viewers were told.
She was later devastated when the pet pig the kids had named Lucy died.
The star went into a tailspin and McDermott checked her into the hospital with severe bronchitis and sinusitis.
He took care of the kids and implied that he did a better job of keeping order in the home than Spelling.
The cheating husband said in confessional that he had told Spelling while she was in the hospital, "I'm going to be brutally honest, things have been really peaceful and calm at home" — and she didn't bring that.
Article continues below advertisement
Watch the video on RadarOnline.com
She was released from the hospital after 13 days and McDermott and the kids welcomed her home while her friend Courtney warned, "The way you're living your life right now is going to kill you."
Later, at Dr. Wexler's office, Spelling put in a panicked call to her agent that she couldn't make it to a personal appearance in Miami because she was still ill.
Spelling told the therapist doing the reality show had been bad for her career as she wasn't being hired for personal appearances in the wake of McDermott's cheating scandal.
Later, Spelling sat down with McDermott and admitted, when she was in the hospital, "I had to relinquish all control and you did an amazing job."
Spelling told him she was concerned about his rehab friend: "Someone you are texting … you stand the chance of it going further. Why wouldn't it?"
McDermott said that wasn't going to happen — but also admitted, "It's not just a friendship. It's something beyond that."
Spelling said, "Right. And that's what scares me, because there's an emotional connection."
McDermott said he couldn't talk about her on camera because discussing the rehab program wasn't right.
"The lines are so blurred with this f*cking show," he moaned. "I don't want people seeing me go through this process. I don't feel good about it anymore."
McDermott said he'd learned a lot but "choose to step away" from the reality show.