Exclusive
Justice Delayed? Tracy Morgan Attorneys Slam Crash Driver's 'Inappropriate' Request For Trial Freeze In New Court Documents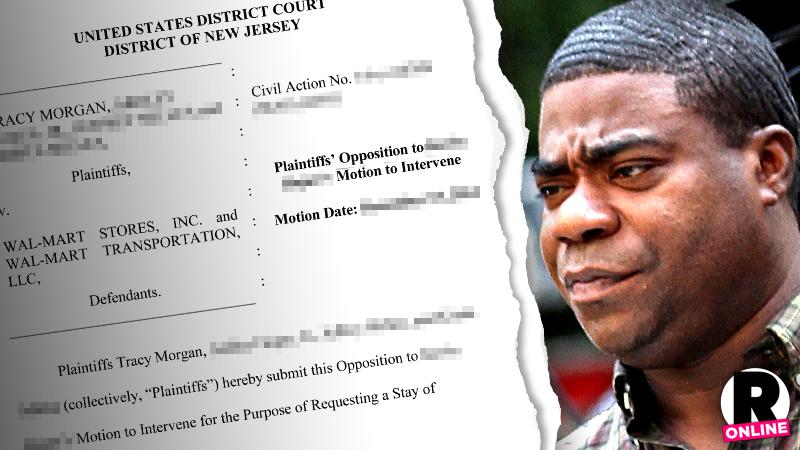 Four months after Wal-Mart driver Kevin Roper crashed his truck into a limo van carrying Tracy Morgan, seriously injuring several passengers and killing one, the trucker is now being accused of attempting to keep the survivors from receiving justice. RadarOnline.com has learned that attorney for Morgan have slammed Roper's "inappropriate" attempt to stay discovery in their civil suit against Wal-Mart, and have asked a judge to deny the motion.
Article continues below advertisement
On June 7, 2014, the truck driven by Roper slammed into the rear of the Mercedes Benz Sprinter occupied by Morgan and friends Ardie Fuqua, and assistant Jeff Millea, the documents state. The trio filed a civil suit against Wal-Mart in July.
Now, their attorneys have opened fire on Roper's legal move in new court documents obtained by RadarOnline.com. Roper filed for the stay last month, requesting "that discovery be stayed in its entirety" in the case. But Morgan's attorneys said in the documents that "It is clear that Mr. Roper's request for a stay should be denied," arguing he "should not be permitted to intervene because no purpose would be served by permitting his intervention."
Roper's filing is especially "inappropriate," they argue in the documents, because he is not even a defendant in the civil suit.
Roper was arrested and criminally charged for death by auto and assault by auto for his role in the crash, but he has not been indicted. What's more, "There is no indication if he will be indicted, or when the final decision whether or not to indict him will be made," the documents state. "Thus, staying the instant civil case would result in an indefinite delay …"
Article continues below advertisement
Morgan and his fellow plaintiffs, accident survivors Ardie Fuqua, a comedian, and Jeff Millea, Morgan's assistant, "have an interest in the expeditious resolution of their civil action" the documents claim, because they "will suffer financial hardship if they are unable to proceed expeditiously with their civil suit, as the injuries they sustained in this accident have left them unable to work."
As RadarOnline.com has reported, Morgan is undergoing intense physical and mental therapy to regain cognitive and vocational skills.
Morgan's attorneys even argue that innocent Americans could be harmed if Roper's motion is granted. They claim, "Wal-mart's practices place drivers and passenger on America's roadways in great danger of suffering similar fates to the victims in this accident: serious injury or death. … The public has a great interest in discovery in this case proceeding expeditiously so that Wal-Mart's alleged trucking practices will be uncovered and hopefully made safer going forward."