Tracy Morgan Crash: Trucker Due In Court, 911 Calls Released & More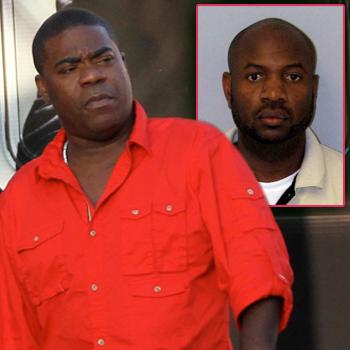 Kevin Roper, the Wal-Mart truck driver who authorities say was responsible for the deadly accident on the New Jersey Turnpike Saturday that killed one man, and severely injured comedian Tracy Morgan, is slated to appear in a New Jersey state Superior Court Wednesday, where he's charged with one count of death by auto and four counts of assault by auto.
Roper, according to a criminal complaint, was awake more than 24 hours prior to the pile-up, which killed 62-year-old comedian James "Jimmy Mack" McNair, left Morgan, 45, with injuries to his femur, nose and ribs, and left two other men injured.
Article continues below advertisement
The actor remained in stable condition Tuesday.
On Tuesday, officials released a series of 911 calls taken following the crash; in one except, a woman is heard saying, "It's a terrible accident . . . the car flipped, it's on its side, it¹s two vehicles and a Wal-Mart truck."
Watch the video on RadarOnline.com
youtube
Morgan's fiancée Megan Wollover broke her silence via her Facebook page Tuesday, ruing the comic's friends , fans and family "to keep Tracy and the others in your thoughts and prayers throughout the recovery."
Watch the video on RadarOnline.com
"Thank you so much for the outpour of support following the accident. Your well wishes mean more than you can imagine, and I know that Tracy can feel the love and positive energy . . . and to Jimmy Mack, you will truly by missed. You have always been very special to Tracy and all of us, and the world will not be the same without you."
Professionally, Morgan has been working on a FXX comedy slated to begin filming later this summer, and airing next year. The network on Tuesday said the show will continue whenever Morgan is ready to return to work.
We'll keep you updated on the latest in this story, right here on Radar.