Tracy Morgan In Critical Condition After Fatal Car Crash In New Jersey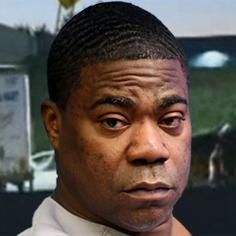 Tracy Morgan remains in critical condition after he was involved in a car accident early on Saturday morning, RadarOnline.com is reporting.
The former Saturday Night Live actor was traveling in a limo bus on the New Jersey turnpike when it was rear-ended by a big rig, causing a six-vehicle crash.
"The limo bus is the only vehicle that overturned," Sgt. Gregory Williams told CNN.
"Looks like one of the tractor-trailers may have rear-ended that limo bus, but that's preliminary at this time."​
Article continues below advertisement
One person was killed -- believed to have been a passenger in the limo bus -- while seven others were hospitalized with injuries.
The 45-year-old actor and father of four remains in Robert Wood Johnson University Hospital as one of at least three in critical condition.
Morgan had a comedy gig​ Friday night at the Dover Downs Hotel and Casino in Delaware.
The turnpike was closed for more than five hours and authorities continue to investigate, but do not think alcohol was involved.
Stay with RadarOnline.com for updates on Morgan's condition…​
UPDATE 9:13 a.m. PT -- Morgan's rep, Lewis Kay, says the actor is expected to remain in critical condition. "His family is now with him and he is receiving excellent care," Kay told NBC News. "We don't anticipate much of a change in his condition today but will provide a further update once more information becomes available."
UPDATE 1:14 p.m. PT -- The one immediate fatality in the crash has been identified as 63-year-old James McNair, a close comedy pal of Morgan's. To comedy fans he was popularly known as "Jimmy Mack."