Tracy Morgan's Condition Upgraded To Fair, & 'His Personality Is Certainly Starting To Come Back,' Rep Says by Radar Staff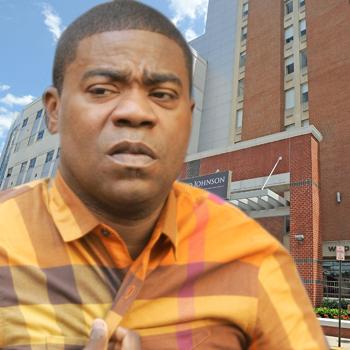 Comedian Tracy Morgan Monday was upgraded to fair condition, more than a week after he was injured in an accident on the New Jersey Turnpike that injured two others and killed his friend James "Jimmy Mack" McNair.
The 45-year-old funnyman's rep Lewis Kay said the Saturday Night Live star's "personality is certainly starting to come back as well" as his body heals from severe injuries to his ribs, and a broken leg, suffered in the June 7 pileup. The 30 Rock star's assistant Jeffrey Millea was also upgraded to fair, while comic Ardie Fuqua remained in critical condition, according to officials from New Brunswick, N.J.'s Robert Wood Johnson University Hospital.
Article continues below advertisement
As we previously reported, officials said Wal-Mart truck driver Kevin Roper — who's pleaded not guilty to charges including one count of death by auto, and four counts of assault by auto, in the incident — hadn't slept in a full day prior to the crash.
We'll keep you updated on the latest in this story, right here on Radar.