No Laughing Matter! Tracy Morgan On The Warpath Against Walmart, Sues Famed Discount Store Over Devastating Crash That Injured Him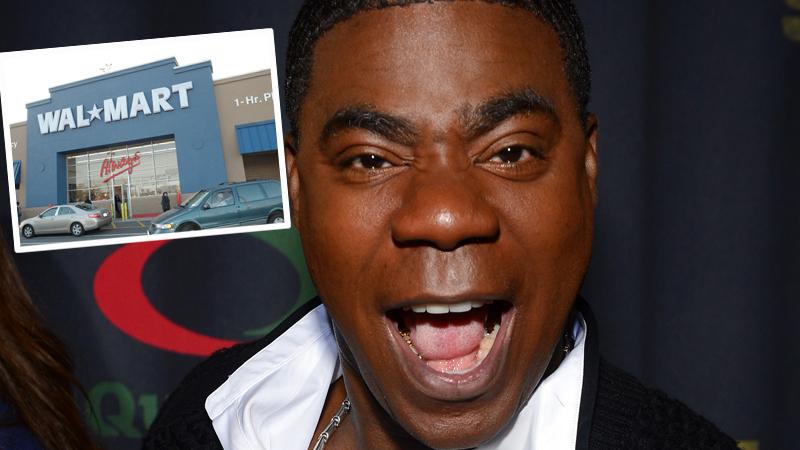 Critically injured Tracy Morgan is on the warpath against Walmart.
The comedian filed a lawsuit on Thursday against the discount store over the deadly limo bus crash on the New Jersey Turnpike that left him with broken ribs, a broken nose and a broken leg. His fellow funnyman friend James McNair was killed and other passengers were injured.
According to the complaint filed in U.S. District Court in New Jersey by attorneys acting for Morgan and three others, the truck driven by Walmart employee Kevin Roper collided with the rear end of Morgan's vehicle and "the defendants' negligence was a substantial contributing factor in causing plaintiffs' injuries."
Article continues below advertisement
The suit alleges Walmart should never have allowed Roper to drive for nearly 10 hours straight after being awake for more than 24 hours.
And it claims Morgan sustained, "severe painful bodily injuries, including but not limited to multiple fractures which required multiple surgeries, extensive medical treatment and will require significant physical rehabilitation."
Roper, who was allegedly traveling 20 miles over the speed limit when his truck hit the limo bus, has pled not guilty to charges of death by auto.
As RadarOnline.com has reported, the former 30 Rock star's rep Lewis Kay recently told fans and well-wishers that as his body heals "his personality is certainly starting to come back as well."
Although he was released from the hospital, however, Morgan is now recovering in a medical rehab center and Kay said, "He still has a long way to go."
Meanwhile, Walmart issued a statement saying the crash had been a "terrible tragedy" and adding, "We are deeply sorry that one of our trucks was involved. As we've said, we're cooperating fully in the ongoing investigation. We know it will take some time to resolve all of the remaining issues as a result of the accident, but we're committed to doing the right thing for all involved.
"Our thoughts continue to go out to them, their families and friends, as well as to the families and friends of everyone involved, including Mr. McNair who lost his life."
Morgan and his fellow passengers seek unspecified damages.